Report: Aguayo Failures A Locker Room Issue
June 28th, 2017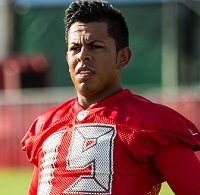 Esteemed Buccaneers beat writer Jenna Laine rolled out goodies this week during an appearance on WDAE-AM 620/95.3 FM.
Joe has written and spoken previously about how the must-see-TV known as Roberto Aguayo attempting a kick had to be in the heads of Bucs players and wearing on them last year.
Just go back and watch the prayer group of Buccaneers before Aguayo kicked in the Week 5 game against the Panthers. When's the last time you saw prayers like that during a game that didn't have extreme consequences to its result?
Joe was certain player would realize that the winning culture Dirk Koetter set out to build couldn't include riding with an poor kicker who was gifted a job before the preseason began.
Laine, who covers the team for ESPN, took it a step further this week, after chatting with guys who wear the uniform.
"Some of the players in the locker room have told me kind off the record that they would agree with this in the sense that, you know, in a bottom line business, just like any other position on the team, if you have someone that's not performing, they're replaced," Laine said. "Well, kicker you don't have a backup so it's a little more challenging, but everyone is expected to produce and everyone is expected to be held accountable regardless of where they were drafted. … You have a certain standard that has to be maintained. … If they can't deliver at their own positions, then they shouldn't have a guy that's out there can't deliver as well, either.

"You get what I'm saying? It sends a bad message to a locker room if you're holding all your other players accountable for missing assignments, or making mistakes, dropping passes, but then you have a kicker that's going out there in clutch situations and failing to produce. So I think it's a great competition."
You can hear Laine's full comments at the 6:03 mark of the audio. She also emphasized that Aguayo is well liked and had a great outing in Kansas City and other positive moments last season.
But the message Laine sent was clear and poignant. A healthy culture of accountability needs competition and consequences at every position.