Miko Grimes Slaps Around Gregg Rosenthal
June 2nd, 2017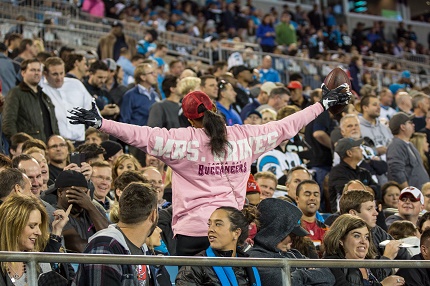 Take a public shot at Brent Grimes and/or Miko Grimes, and you're going to get return fire.
And it shall come from Miko, NFL superwife of the Buccaneers' No. 1 cornerback.

NFL.com Around the NFL chief writer and editor Gregg Rosenthal went right at the Grimes family in his recent piece identifying the top weaknesses for every NFL team.
Tampa Bay Buccaneers: In the Grimes Media Power Rankings, Miko topped Brent last season for headlines despite Brent turning in one of the most randomly dominant seasons ever for an aging cornerback. Expecting Grimes to back that up at 34 years old is unfair, and the Bucs are very thin after their starters at the position. The team will be targeted in a pass-happy division.
This drew a flury of Twitter assaults from Miko to Rosenthal. They started here and, for now, ended here. The links take you to commentary that is NOT safe for young children or weak-kneed adults.
Joe loves Miko fighting back. After all, a guy like Rosenthal is influencing decision-makers across the NFL, and Brent Grimes is entering a contract year. Plus, Rosenthal was rather misleading saying Miko made more headlines last year. She was almost invisible all through the regular season.
And Rosenthal's take that Grimes' year was "randomly dominant." What the heck is that? That's just borderline ridiculous talk regarding a player who had just made three consecutive Pro Bowls.