Simeon Rice & The Right To Feel Jilted
June 21st, 2017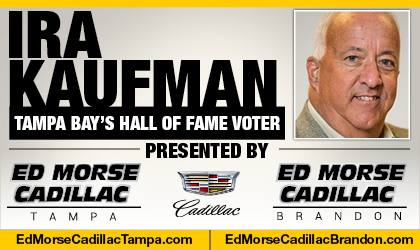 BY IRA KAUFMAN
The 2002 Bucs were just ranked the No. 2 defense of the past 30 years, and it's easy to see why.
Warren Sapp and Derrick Brooks already have busts in Canton and John Lynch remains close. Ronde Barber should have his day in the debate room next February.
But what about big No. 97?
To hear Simeon Rice tell it, his Hall of Fame candidacy is a no-brainer.
He feels he belongs with Deacon Jones, Bruce Smith, Reggie White and the other defensive ends who carved their way into NFL history by hunting quarterbacks.
And when Jason Taylor made the Hall this year, in his first year of eligibility, that only strengthened Rice's resolve that he is being passed over.
In one way, he already has the right to feel jilted.
Rice has never made the list of 25 semifinalists announced by Hall officials in mid-November. That's a necessary stepping stone toward making the cut to 15 finalists, the men whose legacies are discussed by 48 panelists on the day before the Super Bowl.
As Tampa Bay's only Hall of Fame representative, I am eager to make the case for Rice, whose 122 career sacks are topped by only 18 players in league annals.
"Nobody ever talks about Simeon," says Sapp, who played next to Rice for three years. "Simeon was a better rusher than Michael Strahan any day of the week — and twice on Sunday."
It's not easy to win Sapp over. If Brooks is No. 1 on Sapp's list of all-time teammates, Rice could be No. 2.
Rice was already a very good player when he signed with the Bucs as a free agent from Arizona in 2001. He led Tampa Bay in sacks in each of his first five seasons and perfected the art of the blind-side strip, generating 28 forced fumbles in an accomplished career.
"There's no Hall of Fame without me in it," Rice says. "There's just not. I dominated when I played. There was nobody better at my position. Nobody."
Again, that's classic Simeon. Nobody has ever called him understated, but all that bravado helped him become a dominant force off the right edge.
Ranking Rice
So where does Rice place among the greats of the game?
First of all, he's no Deacon Jones, Bruce Smith or Reggie White. Let's establish that from the start.
Sapp and Rice don't want to hear this, but Simeon wasn't better than Michael Strahan, either.
Taylor also has better credentials, earning 2006 NFL Defensive Player of the Year accolades in Miami and finishing with 139.5 sacks and 47 forced fumbles. Taylor scored 9 touchdowns, the most ever for a defensive lineman, and was named to the All-Decade team of the 2000s.
Rice elevated Tampa Bay's defense to another level and he could easily have been named MVP of the Super Bowl rout of the Raiders. He certainly deserves to make the cut to 25 semifinalists, but I'm not sure he will.
There might be a little Buc backlash going on with some voters who wonder how many players deserve Hall of Fame consideration off a defense that won one Super Bowl.
"Sim won't ever have his name brought up for the Hall, and that's a shame," Sapp says. "He's one of the best pass rushers I've ever encountered in my life."
Rice isn't the only defensive lineman getting a raw deal.
How about Leslie O'Neal, the ex-Chargers stud who made six Pro Bowls and ended his career with 132.5 sacks? He's still waiting to get into the Hall of Fame room for his day of reckoning.
Crazy, Not Lazy
All I know is Rice didn't deserve to be called out recently by SiriusXM NFL Radio host Ross Tucker, who suggested Rice was a liability against the run. Tucker added that Rice had a reputation for loafing, but I can't believe Monte Kiffin and Rod Marinelli would stomach a player they deemed lazy.
Rice wasn't lazy. Crazy? Perhaps.
One cool cat? Definitely.
Who else would be sent home from San Francisco for missing a team meeting, then regale the assembled media a few days later with stories about how smooth the glass of wine was on the flight back to Tampa?
That's what you get with No. 97, a world traveler enjoying a second career as a film director. Maybe he can give the Hard Knocks crew a few pointers at One Buc Place during training camp.
Rice might be a longshot to make it to Canton, but it might be worth putting the man in the Hall … just to hear his acceptance speech.
Ira Kaufman, the most beloved and esteemed columnist in town, has hung his hat at JoeBucsFan.com world headquarters since July 2016. Tampa Bay's only Pro Football Hall of Fame voter, Ira's columns pop here every Monday, Wednesday and Friday, and his award winning podcasts fire Tuesdays and Thursdays.