The Five Most Indispensable Buccaneers
June 9th, 2017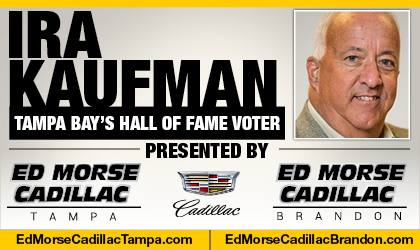 BY IRA KAUFMAN
Sportswriters love lists, and I'm no exception.
But let's be honest, many of these lists are silly. For example, any scribe who suggests his seven-round mock draft has value is kidding himself.
In fact, it's the very definition of having too much time on your hands. How do you know who will still be on the board at pick No. 117?
I've come up with a list that can tell you a lot about the state of the 2017 Buccaneers. Let's call it The Essentials, a ranking of the five most indispensable Tampa Bay players as we await the start of training camp in late July.
Before we open the envelopes, here's a few very good players who didn't make the cut — Gerald McCoy, DeSean Jackson, Ali Marpet and Lavonte David.
Let the arguments begin, Stick Carriers.
No. 5 – Brent Grimes
By signing Grimes in 2016, the Bucs broke with their traditional strategy of ignoring any free agent older than the age of 30. Grimes responded with a superb season, topping the NFL with 28 passes defended and adding four interceptions and a forced fumble.
That's four consecutive years with at least four picks for Grimes, and Tampa Bay's secondary would suffer quite a blow if he were sidelined. Just ask Vernon Hargreaves, who was tested repeatedly as a rookie, partly because of the respect opposing offenses had for Grimes.
"Vernon was targeted a lot," said defensive coordinator Mike Smith. "When you have a Brent Grimes on one side, it's not talking about Vernon's talent, it's talking about Brent's talent."
No. 4. – Donovan Smith
Smith isn't knocking on the Pro Bowl door, but he hasn't missed a snap in two years, protecting Jameis Winston's blind side and holding his own against some of the league's premier pass rushers. There isn't proven depth behind him if Smith goes down.
"He is an unbelievable talent," offensive line coach George Warhop says of Smith. "He literally could be one of the top two or three tackles in the league. That's just my opinion. I love the guy."
No. 3  – Mike Evans
Yes, Jackson is a serious deep threat, and yes, Chris Godwin has looked impressive in OTA sessions, but Evans is the stud Winston will continue to look for in key situations.
Want proof? Evans was targeted 175 times last fall and the 81 first downs he generated were 15 more than any other wideout. Only Jordy Nelson caught more TD passes than Evans, who improved his concentration markedly after an erratic 2015 season.
It wouldn't surprise anyone if Evans finds the end zone another 12 times this year, especially if Winston improves his deep-ball accuracy.
No. 2  – Kwon Alexander
We saw Alexander's value at the end of his rookie season, when the 6-6 Bucs went 0-4 while he served a suspension for violating the NFL's policy on performance enhancing substances.
The only defensive player drafted by Jason Licht in his first two seasons as Buc GM, Alexander easily topped Tampa Bay with 145 total tackles last year. His 108 solo stops led the league and he closed with a flourish, posting 41 tackles in the final three games.
That includes a 21-tackle effort at Dallas, where he was one of Tampa Bay's few defensive standouts. The Bucs drafted Kendell Beckwith to provide quality depth behind Alexander, but the LSU rookie is coming off a torn ACL.
No. 1 – Jameis Winston
No surprise here, as the dynamic face of the franchise needs to stay healthy for the Bucs to have any credible chance to end a nine-year playoff drought.
Winston's presence gives everyone around him confidence, and he has been quite durable through two seasons. Veteran backup Ryan Fitzpatrick is 46-69-1 as an NFL starter, but his experience could keep the Bucs afloat if Winston is sidelined for a short period.
Tampa Bay's only Pro Football Hall of Fame voter, Ira Kaufman, the most beloved and esteemed columnist in town, has hung his hat at JoeBucsFan.com world headquarters since July 2016. His columns pop here every Monday, Wednesday and Friday, and his award winning podcasts fire Tuesdays and Thursdays.