Dirk Koetter Talks Targets, Happiness & Winning
June 30th, 2017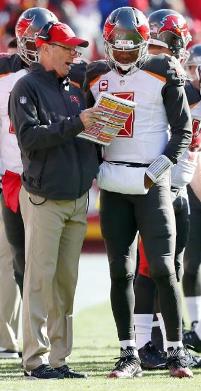 The sage of Tampa Bay sports, eye-RAH! Kaufman, has been buzzing all spring about how Dirk Koetter might have to focus on spreading the ball around to keep his stockpile of weapons content and maintain good feelings in the huddle.
So Kaufman fired that fastball at Koetter during the recent edition of the Ira Kaufman Podcast.
Ira asked the head coach if lots of talented targets means you have to be concerned about keeping guys happy.
Interestingly, Koetter acknowledged that complaints about touches and targets arise when a team is losing, but the Bucs plan on winning so it's a non-factor to him.
"I've just found over the years that if you're winning, everything takes care of itself. The only time touches and targets become an issue is when your team is struggling. Then it becomes an issue. " Koetter said. "Everyone's going to play along fine when you're winning. And we plan on winning. So as a coach, I don't think you can worry about that. What coach would get up there and say, 'We have too many good players.' I mean, that's the plan. Get more good players. Now how do you keep them all happy? Put together a team and a system that has a chance to win every week. If you don't win, I'm not going to be happy, they're not going to be happy, and you guys aren't going to be happy."
Joe loved the candid answer by Koetter.
And he's on the money.
Sure, Cameron Brate might cry if O.J. Howard gets more targets and Brate's numbers decline as he nears his new contract. DeSean Jackson might moan and pout if the Bucs are throwing to him twice a game while Mike Evans is pounded again with an average of 11 targets per outing. Or Evans might get frustrated if he's cut back to six or seven throws a game. Charles Sims might even make a rare public comment if he's healthy but only sees a few snaps a game in his contract year. You get the idea. But they all shut up and smile if the Bucs are winning.
As Koetter has said, "All that anyone gives a sh*t in this league about is wins."
No truer words have been spoken.