Just Four More Weeks
June 30th, 2017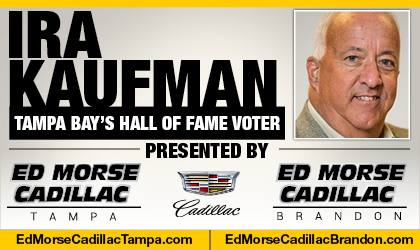 Ira Kaufman, the most beloved and esteemed Buccaneers columnist in town, has hung his hat at JoeBucsFan.com world headquarters since July 2016. Tampa Bay's only Pro Football Hall of Fame voter, Ira busts out his columns here every Monday, Wednesday and Friday, and his award winning podcasts fire Tuesdays and Thursdays.
BY IRA KAUFMAN
It'll be here before you know it.
The first workout of training camp is slated for four weeks from today at One Buc Place, with the Hard Knocks crew eager to introduce the rest of NFL Nation to your favorite football team.
This will be a different camp than Buc fans have grown accustomed to … and that's a good thing.
While the indoor facility is still under construction, so is Dirk Koetter's final 53-man roster. Besides all the additional cameras, Tampa Bay players will notice a new energy in the crowd.
A buzz will cut through all that thick humidity.
That's because the Stick Carriers have been mobilized through this website and its podcasts. Typically, the only time Buc supporters get vocal from the camp bleachers is when Captain Fear stirs up the masses.
This time around, Buc fever will be apparent from the outset. And although the Stick Carrier brigade won't officially invade the facility until Aug. 5, the legion of Buc supporters has grown significantly in the offseason.
Their voices will be heard. Loudly. Repeatedly. Passionately.
Tampa Bay fans are drawn to obvious focal points — especially after the pads go on shortly after camp starts up. I'm going to concentrate on the trench battles, where most games are decided.
Is Ali Marpet getting the job done at center after two years of flashing Pro Bowl potential at right guard? Marpet has no experience manning the middle of the offensive line, and while I have no doubts about his athleticism and football smarts, Marpet is being asked to make a challenging transition.
There's nothing more basic in football than the center-quarterback exchange, so I'm curious how many times the ball drops before Jameis Winston takes his drop.
Over at Marpet's old spot, J.R. Sweezy has much to prove after missing the entire 2016 season due to back issues.
How and when Sweezy got hurt remains a mystery on a par with Stonehenge, but the only thing Buc fans care about is whether Sweezy can get the job done for 16 games. He says he feels even better than before he injured his back and underwent surgery.
Pressure For Pressure
On the defensive front, a decent pass rush needs to be better. Dak Prescott and Drew Brees weren't under enough duress during the two biggest games of the year. I'm not asking for Von Miller or J.J. Watt, but somebody has to step up in crunch time and apply pressure with the game literally on the line.
Gerald McCoy is already on record saying he needs to play better.
That's a good start, but how about the rest of McCoy's band of brothers? Noah Spence needs to stay healthy and hungry. Chris "Iverson" Baker needs to embrace practice and hunt quarterbacks with disdain.
When the Bucs bring the heat, like they did at home against Seattle and New Orleans, their defense can look elite.
Winston has new targets in DeSean Jackson and rookies Chris Godwin and O.J. Howard. Let's see how long it takes for him to get his timing down in camp against a secondary that is still sorting things out at safety and nickel corner.
No Laughing Matter, Jameis
Winston laughed when I asked him whether it's possible to overthrow Jackson, one of the game's premier deep threats. But as we have seen, Winston's touch on downfield passes isn't where it needs to be.
As an experienced play-caller, Dirk Koetter has every intention of making defenses cover each blade of grass. Training camp would be a good place for Winston to start proving these Bucs can and will stretch the field.
And of course, we can't talk about camp competition without mentioning the foot soldiers, Roberto Aguayo and Nick Folk. There won't be another NFL camp with nearly as much scrutiny at the kicker position.
Get your pads and pens out, folks, and keep track of each make and shank. Hard Knocks will be watching intently. So will Buc players, coaches and ownership.
There's a lot at stake when those footballs start soaring toward the crossbar.
Yes, the journey begins in four weeks. It's going to be loud and it's going to be sweaty.
Most of all, it's going to be fun.