Looking In The Nashville Mirror
June 5th, 2017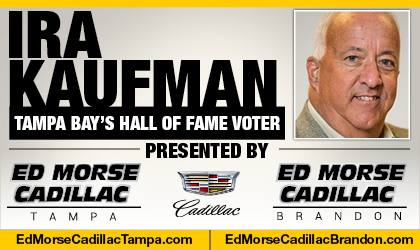 Tampa Bay's only Pro Football Hall of Fame voter, Ira Kaufman, the most beloved and esteemed columnist in town, has hung his hat at JoeBucsFan.com world headquarters since July 2016. His columns pop here every Monday, Wednesday and Friday, and his award winning podcasts fire Tuesdays and Thursdays.
BY IRA KAUFMAN
The Buccaneers have a trending partner in the AFC, a mirror image poised to make some noise after years of deathly silence.
The Bucs and Titans suddenly find themselves joined at the hip pad.
Flourishing quarterbacks Jameis Winston and Marcus Mariota were selected 1-2 atop the 2015 draft, and Tennessee GM Jon Robinson worked under Jason Licht in Tampa before taking over football operations in Nashville.
"I can see a lot of similarities between us," says Licht, who spent some anxious moments during Round 1 of this year's draft before the Titans chose cornerback Adoree' Jackson at No. 18 — with O.J. Howard still on the board.
Like the Bucs, Tennessee has the look of an ascending team with a franchise quarterback. And like their NFC counterparts, the Titans spent this offseason giving the young face of the franchise more weapons.
While the Bucs were adding DeSean Jackson, Howard and Chris Godwin as targets for Winston, Robinson hit the draft hard — selecting wide receivers Corey Davis and Taywan Taylor, and tight end Jonnu Smith, within the first three rounds.
Both teams are coming off 9-7 seasons, finishing second in their respective divisions, and Bucs coach Dirk Koetter sees plenty of parallels, particularly in terms of offensive scheme.
""The Titans are a team I watch a lot on offense, we run similar systems," Koetter said on WGFX-FM in Nashville. "That's a team I like to watch to get ideas from those guys on how they're attacking teams that we both play. They did a great job this year; the Titans did an awesome job."
Until he fractured his fibula late in the season, Mariota was arguably having a better year than Winston, throwing for 3,426 yards and 26 touchdowns in a run-first attack. He is expected to make a full recovery in time for the season opener at home against the dynamic Raiders.
#WeaponsForMarcus
With wide receiver Rishard Matthews and tight end Delanie Walker now surrounded by rookie talent, the Titans appear more equipped to complement the NFL's No. 3 ground game.
"The more weapons the Titans get Mariota, the better he's going to be, and the better the team is going to be," says NFL Network analyst Steve Mariucci. "Marcus, he's just going to keep getting better and better."
Tampa Bay's defense boasts better overall talent than the Titans', but give Tennessee the edge on the offensive line, where 25-year-old Taylor Lewan and 22-year-old Jack Conklin form the best young tackle tandem in the league.
The Bucs are also in a tougher division, home of the last two NFC champions coming, and all four South clubs boast franchise quarterbacks.
While Tampa Bay's backfield appears unsettled given the Doug Martin "situation," Tennessee's offense is built around DeMarco Murray, whose 18 100-yard games since 2014 rank No. 1 among all running backs.
Despite some differences in tendencies, the Bucs and Titans share a common approach.
"When Dirk took over in Atlanta [as offensive coordinator] when I left there, I think the offense remained the same," says Titans coach Mike Mularkey. "It's very similar now. He may have changed the terminology, but a lot of it is very similar. It is interesting where we're at, with Mariota and Winston both running the same offenses. I think it's eerie in that way."
Robinson is off to a terrific start as an executive in Nashville and he'll be the first to admit Licht has served as a savvy mentor. The Titans have a lot to build off, and if Davis lives up to his potential as a game-breaker, Mariota should enjoy a breakout season.
Even with mediocre weapons last year, Tennessee proved awesome in the red zone, scoring 36 touchdowns and adding 11 field goals in 50 possessions inside the 20.
That 94 percent scoring rate led the NFL.
Silencing his skeptics, Mariota has quickly evolved into a passer comfortable in the confines of the pocket. In their first two seasons, Mariota has fewer rushing attempts and fewer rushing touchdowns than Winston.
"Both teams have quarterbacks they are building around," Licht says. "I couldn't be more proud of the job Jon Robinson is doing in Tennessee and in my view, these are two franchises definitely on the rise."