Paychecks Tell The Story
June 19th, 2017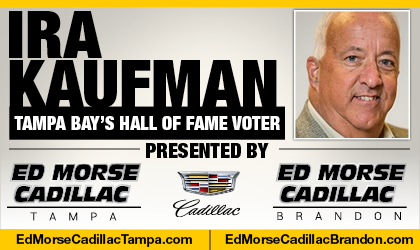 BY IRA KAUFMAN
It was the most memorable line from "All the President's Men," and it still holds true today for All the Glazers' Men.
Follow the money.
In stockpiling impressive young talent after years of draft-day goofs, the Bucs appear poised to end a nine-year postseason drought that has tested the patience of even their most dedicated fans.
The best way to gauge the franchise's progress is the number of current Bucs either already on second contracts or well on their way.
That's how you can tell Tampa Bay is ready to start a new cycle. It helps to be active and smart in free agency, but the foundation must come from the draft.
Instead of selecting knuckleheads like Aqib Talib and Austin Seferian-Jenkins, the Bucs are selecting character guys who can play.
Instead of taking prospects who don't love football — yes, I mean you, Da'Quan Bowers — the Bucs are adding dedicated players who work hard to improve.
Instead of choosing Mark Barron without a plan to maximize his skills, the Bucs are tailoring their game plans to the strengths of their personnel.
And in the process, they are laying out the cash.
Fat Checks = Smiles
"Our football people have never been told no because of money," Joel Glazer told me a few years back. "Money will never be an issue when it comes to building this team the way we think it should be built. Looking at our history, when it was necessary to spend to keep people or get someone to put us over the top, we didn't think twice about it.

"And we won't think twice about it, ever. Money is not an issue and that perception is false. Sometimes, I feel that charge is a scapegoat. It's the one easy, tangible thing people can grab onto. But I grab onto not drafting well for many years. That's like a slow cancer that builds and grows and eventually takes over. That is a major source of our problems and that's the problem that has to be corrected. You correct that problem and you start writing a lot of big checks. And you're happy to do it, because that's a good problem to have."
In 1997, the Bucs began their six-year run as a perennial NFL power. They drafted well and kept core players like Derrick Brooks, Warren Sapp, John Lynch, Ronde Barber and Mike Alstott from reaching free agency.
That same blueprint is now in place.
Gerald McCoy and Lavonte David have signed lavish second contracts with Tampa Bay — and there's a conga line gathering behind them.
It won't be long before Mike Evans, Jameis Winston, Ali Marpet, Donovan Smith and Kwon Alexander will approach the end of their rookie deals.
"Big contracts come along with this formula," Glazer said, "because if you get it right, you've got to pay big salaries … and we look forward to that."
Taking Out The Trash
The number of premium picks wasted by the Bucs in the past decade is astounding.
Gaines Adams, Arron Sears, Sabby Piscitelli, Dexter Jackson, Brian Price, Arrelious Benn, Bowers, Barron, Johnthan Banks, Seferian-Jenkins … stop me when you find a Pro Bowler.
Stop me when you're finished throwing up.
"We said we're going to draft and develop, keep our own players and, over time, add free agents," Glazer said. "When you're building a house, you don't buy the furniture first."
This rebuild has taken longer than anyone imagined, including ownership. By the end of the 2008 season, even after two more division titles under Jon Gruden, the Glazers acknowledged the end of an era by changing coaches and ordering a veteran purge.
Just like that, Brooks, Warrick Dunn, Ike Hilliard and Joey Galloway were history. And history hasn't been very kind to the franchise since that somber day.
Now the cycle begins anew with fresh cornerstones in place.
"The one thing we say as an organization is we have a plan and we're going to stick with it," Glazer said. "This is the type of plan that historically builds sustained success. We all lived it once in Tampa. We drafted well, we developed those players and we kept those players. That's why we had a great run."
Follow the money.
Ira Kaufman, the most beloved and esteemed columnist in town, has hung his hat at JoeBucsFan.com world headquarters since July 2016. Tampa Bay's only Pro Football Hall of Fame voter, Ira's columns pop here every Monday, Wednesday and Friday, and his award winning podcasts fire Tuesdays and Thursdays.