"Grimes Showed Us It's All About The Work"
June 14th, 2017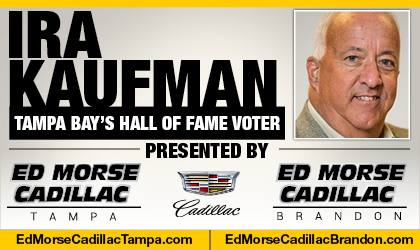 Ira Kaufman, the most beloved and esteemed columnist in town, has hung his hat at JoeBucsFan.com world headquarters since July 2016. Tampa Bay's only Pro Football Hall of Fame voter, Ira's columns pop here every Monday, Wednesday and Friday, and his award winning podcasts fire Tuesdays and Thursdays.
BY IRA KAUFMAN
When Brent Grimes looks around the Bucs locker room, he sees all kinds of mad skills.
Over in the corner, he sees Pro Bowler Mike Evans, eager to break the chains of constant double-teaming with the addition of deep threat DeSean Jackson. Straight ahead, Grimes sees Jameis Winston, who wishes the 2017 season started yesterday.
To his left, Grimes sees Gerald McCoy, a five-time Pro Bowler hell-bent on taking his game to another level. Across the room, he sees middle linebacker Kwon Alexander, ready to impose his will on Buc opponents and Hard Knocks camera crews.
But as a 10-year veteran, Grimes also knows that the NFL is littered with underperforming teams who enter January lamenting unfulfilled potential.
"We did some good stuff last year, but this is a whole new season," Grimes said after Tampa Bay's initial mandatory minicamp session. "We've got a lot of talent — but a lot of teams in this league have a lot of talent."
Grimes went about his business in typically understated fashion during his first year in pewter. He tied Keith Tandy for the team lead with four interceptions, giving him 30 picks during an accomplished career that shows no signs of slowing down.
Grimes turns 34 next month, a challenging age for any NFL cornerback. If Grimes is starting to slip, he hides it well.
"He showed us last year that it doesn't matter how old you are," said Bucs defensive tackle Clinton McDonald. "Brent has a young spirit and a way about him. He's a very exciting guy to watch. That's a tough position to play and Grimes showed us it's all about the work."
Fighting Spirits
McDonald prides himself on being a competitor. He knows a warrior when he sees one, and it didn't take long before he signed up for the Grimes fan club.
"He don't back down, always up for a challenge," McDonald said. "He came in this morning and a guy said, 'How about some Ping-Pong?' Brent said 'Let's go.' He dropped his stuff off at his locker and hit the Ping-Pong table. That's the level of competing we want around here."
Grimes has made a nice living proving his distractors wrong.
He signed with the Falcons in 2006 as an undrafted free agent and was promptly allocated to NFL Europa, where he starred for the Hamburg Sea Devils.
Yes, the Sea Devils.
As a football survivor, Grimes now serves as a heady mentor for Vernon Hargreaves, who just turned in a solid rookie season at the opposite corner.
"Hargreaves is more comfortable in Year 2," Grimes said. "He's going to let his talent take over and make plays. I don't know that it's being more aggressive — it's just playing ball. You don't want to overthink things."
Buc fans know Miko Grimes isn't shy about letting her feelings known. She made a lot of news in Miami, where her husband played three seasons before joining the Bucs as a free agent.
In Tampa, Miko hasn't fired a single shot at the organization. And according to the pride of Shippensburg (Pa.) University, there's a chance Brent Grimes will finish out his playing career with Tampa Bay.
"It's a great place," says Grimes, entering a contract season. "I like the way they run it, cool people. Obviously, I like the coaches. It's a good vibe. This is a close-knit group and everyone's comfortable."
In Atlanta, Grimes watched Matt Ryan emerge as a perennial Pro Bowl quarterback in the NFC South. Now he's witnessing another young passer on the same trajectory.
"In Jameis, I see a guy who just loves to compete," Grimes said. "He obviously has a lot of talent. He loves to try and get better and he wants to make plays. He's not trying not to lose — he's trying to win. I appreciate that. That's what you want out of your quarterback. The more he sees, the better he'll get."