A Diva In Our Midst
June 7th, 2017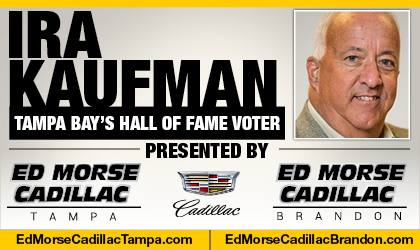 Ira Kaufman, the most beloved and esteemed columnist in town, has hung his hat at JoeBucsFan.com world headquarters since July 2016. Tampa Bay's only Pro Football Hall of Fame voter, Ira's columns pop here every Monday, Wednesday and Friday, and his award winning podcasts fire Tuesdays and Thursdays.
BY IRA KAUFMAN
When the free agency clock struck in March and the Bucs pounced on DeSean Jackson, Stick Carriers took an avid interest.
But let's not forget that the word "avid" spelled backwards is "diva," and Mr. Jackson will never be able to outrun that label, no matter how many beaten defensive backs he leaves in his wake.
Jackson fits the diva profile — supremely confident in his ability, flamboyant in his actions and never shy about expressing his swagger.
We all know that wide receivers have a virtual monopoly on the diva tag. From Keyshawn Johnson to Chad Johnson, from Terrell Owens to Odell Beckham Jr., some of the game's most accomplished wideouts have generated equal attention off the field.
Jackson fills the bill, whether he is picking up a penalty flag and parading around the stadium, or throwing a football at the Giants bench, nullifying a 50-yard reception.
You can't be a scrub and be considered a diva. Kenny Bell will never qualify.
No, you've got to be a big-time target to garner diva status, and Jackson has been one of the NFL's premier deep threats since entering the league with the Eagles in 2008.
In Jackson's fourth season in Philadelphia, he got called out publicly … by a kicker. That's like the Togo ambassador slapping you around in the United Nations.
"Team Guy?"
When Jacksonville's Josh Scobee watched Jackson draw that taunting penalty against the Giants during a Sunday night matchup, he decided to throw a flag of his own.
"Relax people," Scobee said on Twitter. "He's just a punk, which to me means he doesn't respect anyone or anything around him. Therefore, I don't respect him."
That Twitter blast from Scobee came during Dirk Koetter's final year as offensive coordinator of the Jaguars. Now, Koetter is devising plays to spring Jackson into the open.
After the Eagles released him in 2014, Jackson went on to play three seasons in Washington before hitting free agency once again.
"Coming from Philly, the image they put out on me — I had three years to prove to everybody I'm not that type of guy," Jackson said at the end of last season. "I'm a team guy. I love obviously to get the ball, but what receiver do you know that doesn't want the ball? I haven't gotten in any trouble off the field. I'm a family man, a man about his business."
New Territory
Jackson and Eagles coach Chip Kelly had a strained relationship, even though Jackson set career marks for catches (82) and receiving yards (1,332) in 2013, Kelly's first season on the Philadelphia sidelines.
After Jackson was released, reports circulated that he missed meetings and had an erratic work ethic. The Redskins heard the rumors but signed him anyway to a three-year deal with $16 million guaranteed.
Buc fans don't have a lot of experience with diva receivers. Keyshawn wore out his welcome with Jon Gruden in 2003, sulking when he didn't get enough passes thrown his way.
Eventually, Gruden gave Keyshawn his walking papers, channeling the words of Tom Petty: Don't Come Around Here No More.
Antonio Bryant showed signs of developing into a Tampa Bay diva, but he played only two seasons with the Bucs and he was gone by 2010. He never caught another NFL pass.
Vincent Jackson turned out to be sheer class and Mike Evans prefers to do his talking between the lines, so DeSean Jackson finds himself front and center — just the way he likes it.
"Put the ball in my hands, I'm going to get it done," he says. "I feel very confident that when the ball is in my hands, what I'm able to do with the ball – we could be on our 1-yard line, we could be on the opponents' 15-yard line, wherever we're at, put the ball in my hands, I feel like I'm going to get the job done."
Buckle up, Buc fans. There's a diva in our midst.