Tap The Brakes
May 10th, 2017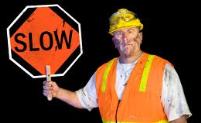 Joe loves the excitement in the air, but some folks might want to tap the brakes.
Yes, significant folks believe the Bucs are a playoff team as a result of massively upgrading the receiving talent this offseason for America's Quarterback, Pro Bowler Jameis Winston.
Playoffs? OK, Joe sees that, but given the decade of playoff-less football in these parts, Joe is cautious. Joe's a burning bush kind of guy.
But Super Bowl? Hold up!
Bonnie Mott of USA Today thinks Bucs AC/DC-loving general manager Jason Licht upgraded the offense so well the Bucs have a Super Bowl talent now.
Maybe it's just the nature of Joe to wait until the season at least starts to even dare infer the term "Super Bowl." Or perhaps Joe is still suspicious of the running attack of the Bucs, fourth-worst in the NFL last year in yards per carry.
So a fifth-round running back will fix that? Sure, it could happen, but pardon Joe for being in wait-and-see mode.