Mike Smith On Rookies, Baker, McCoy & More
May 8th, 2017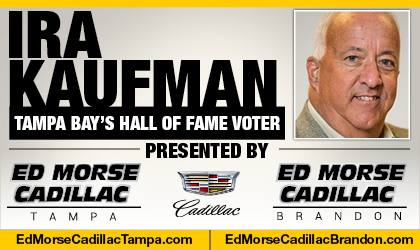 Tampa Bay's only Pro Football Hall of Fame voter, Ira Kaufman, and the regions most beloved and esteemed columnist, has hung his hat at JoeBucsFan.com world headquarters since July 2016. His columns pop here every Monday, Wednesday and Friday, and his award winning podcasts fire every Tuesday and Thursday.
BY IRA KAUFMAN
It's nice to be wanted.
Mike Smith wasn't getting much love around the league four months ago, when he entered the offseason fairly confident he'd get another shot as a head coach.
He owned a strong resumé from his seven years with the Falcons, especially compared to the retreads who were being considered for openings. But when things didn't materialize with the Jaguars and Chargers, Smith was content to return to the Bucs as defensive coordinator.
Dirk Koetter, who served as Smith's offensive guru in Atlanta, welcomed him back to One Buc Place to finish what he started. These guys go back quite a way, first working together in Jacksonville a decade ago.
Although it wasn't in his self-interest, Koetter did the right thing in January, when Smith was going out on job interviews. He didn't want to lose his defensive mentor, but Koetter came out publicly and suggested strongly that Smith had better qualifications for those vacancies than any other candidate.
That's what a friend does … and Koetter meant every word of it.
Now Smith is back, determined to do his part in helping Tampa Bay end a nine-year playoff drought.
Buc fans know Smith's group improved markedly last year after Tampa Bay's 3-5 start. In wins against Kansas City, Seattle and New Orleans, the Buc defense smothered the opposition, making Drew Brees, Russell Wilson and Alex Smith look like chumps.
"Yes, expectations are high around here," Smith told me in a private conversation during rookie mini-camp. "But you have to remember that expectations are high in every town at this time of year."
Slap In The Facemask
While Buc fans are stoked for a big season, Vegas oddsmakers aren't sold. The early over-under win total for Tampa Bay in 2017 is eight, which means they see no improvement — or a step backwards — coming this season.
You can bet that slap in the facemask has not gone unnoticed at One Buc Place — either in the executive suite or in the locker room.
And while the additions of DeSean Jackson and O.J. Howard have Buc fans anticipating a wide-open attack, Smith isn't complaining about upgrades on his side of the ball.
"Chris Baker is a very athletic, big inside defensive lineman we're excited about," Smith says. "He's not just a two-down player. He gives us more girth inside and I understand he's quite a good dancer. He puts on quite a show."
The Bucs signed J,.J. Wilcox from Dallas as a free agent and drafted Justin Evans in the second round to join the competition at safety.
"Wilcox is a physical player," Smith says. "We see him more as a strong safety rather than free, but he has played both. In two practices here, Evans has shown great range and we already know he can hit.

"Player safety has been a big key in the NFL, but football has always been about blocking, tackling and hitting. Both of those guys have the ability to get down in the box and be the eighth element. They can be a force against the run and also play well in the middle of the field."
Harsh Critic
Remember a few weeks ago, when Gerald McCoy talked about taking his game to the next level?
Like so many Buc fans, Smith has no problem with the idea.
"We don't ever want our players to be satisfied," he says. "Gerald's a heck of a player and a heck of a man. I think he knows that you never max out in this league. He's probably his own worst critic."
According to Smith, Buc fans clamoring for a 3-4 front may get their wish at times this fall. With some talented new pieces in place, Smith will continue to veer away from the Cover 2 scheme that defined the Bucs 15 years ago.
"We showed some rapid improvement on the defensive side last season," Smith says, "and guys have a better grasp of our new system. We're light years ahead of where we were at this time last year."