Koetter: "We Lost Vincent Jackson"
May 14th, 2017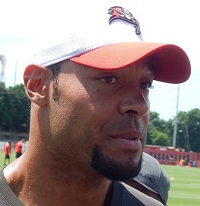 The Bucs have been clear that their No. 5 wide receiver job is wide open.
That's why the team sniffed veteran couch-warmer Riley Cooper last weekend at One Buc Palace.
Cooper was not signed. Louis Murphy is healthy at home. And the Bucs have assembled a large band of unspectacular talents and no-names to compete for that receiver spot.
Yeah, it's just a backup gig. However, that position cost the Bucs dearly the past two seasons. So that's why Joe is obsessing. It's important.
Tampa Bay let Russell Shepard frolic off to Carolina. No problem there. But what about taking a shot at Vincent Jackson now that he's unwanted across the NFL, and subsequently inexpensive? Jackson, 34, appears willing to compete and grind one more season.
Jackson has been public saying he's healthy and eager to play. He even detailed that he can help the Bucs in various ways this season.
Now that the draft dust has settled, Joe would love to see Jackson compete for a job with the likes of Josh Huff, Freddie Martino, Bernard Reedy, Donteea Dye, Derel Walker, Bobo Wilson and others — for all the same reasons Joe clamored for Roddy White to get a sniff here last year. The Bucs could always cut him.
After Day 2 of the NFL Draft, Dirk Koetter jumped on SiriusXM NFL Radio with Alex Marvez and Tom Pelissero. And in a discussion about receiver depth in 2017, Koetter said, "We lost Vincent Jackson."
It was an odd comment, and odd verb choice, considering Jackson had just said on WDAE-AM 620 that he visited One Buc Palace and was available to be a versatile player under Dirk Koetter.
 "I'm very dynamic as far as what I've done in the past throughout my career, you know, playing outside inside, having mismatches against safeties and things in the slot. So I pride myself on being a receiver that not only can just stretch the field on the outside one-on-one, but can run those intermediate routes, those third-down routes that can keep drives alive," Jackson said. "Dirk's a very, very smart guy. You know, I'm sure that he would put plenty of work in with Jameis and our offensive coordinator to put everybody in the best position to be successful. So, you know, there's a lot of different things I could bring to the table."
Surely, Koetter was aware of the commentary and the team knows Jackson isn't "lost."
Joe can only conclude that Koetter and Jason Licht watched Jackson's five games last season before his knee injury and want no part of that ugliness again.
Joe can't quibble with that assessment, if that's that's the case. But Jackson still might be better than all the other dudes competing for that final spot. We'd only find out if he comes to camp.