Finishing Jameis Winston
May 10th, 2017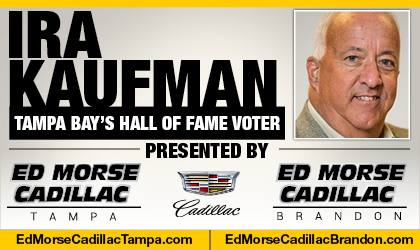 BY IRA KAUFMAN
We all know about his relentless work ethic. His leadership … off the charts. He commands respect from every coach and teammate that crosses his path.
Yet Jameis Winston still has much to prove at the NFL level.
Although he is off to an impressive start, Winston must progress if the Bucs are going to shake up the world and delight their Stick Carriers. The good news is Winston is not about to rest on his laurels — or that darned alarm clock.
In the wee hours, while Buc fans are fantasizing about Kate Upton, Zac Efron or another Vince Lombardi Trophy, Winston arises early to seize the day. That siege appears significantly more realistic when you are aiming passes at DeSean Jackson and O.J. Howard rather than Louis Murphy and Austin Seferian-Jenkins.
"Jameis Winston's a winner," says Jackson, who had several suitors in free agency but settled early on Tampa Bay because "I wanted to play with a great quarterback."
Even Winston would acknowledge he's not great at this point. But at the age of 23, he's getting there. He just guided the Bucs to their first winning season since 2010, which was a very significant year in franchise history.
Hanging Freeman
That's the year Tampa Bay went 10-6, 22-year-old Josh Freeman's first full season as a starter. And although the Bucs came up just short of an NFC playoff berth, the phrase "franchise quarterback" followed Freeman around all offseason.
And why not?
Let's not rewrite history, folks. Freeman was fantastic in 2010, throwing 25 touchdown passes and only six picks. His 1.3 percent interception rate was lower than everyone in the league not named Tom Brady.
Everyone was excited about the team's future, including the Glazers, who called 2010 their most rewarding season since the 2002 championship year.
We all know how quickly things went south.
Freeman, now a 29-year-old quarterback who has never suffered a significant injury, can't get a job in a league where Josh McCown and Brian Hoyer may start in Week 1.
Winston should have a picture of Freeman hanging in his locker as a cautionary tale to remind him how potential franchise quarterbacks can soon be out on the street.
In no way do I think Winston will suffer a similar fate.
Fixing The Fourth Quarter
Winston's car is often seen in the parking lot at One Buc Place before 6 a.m. That's about the time Freeman rolled into bed on occasion.
Freeman never embraced the leadership role that comes with the position. Winston looks and sounds like a guy who would play for nothing.
But let's not assume No. 3 is a finished product.
Only Philip Rivers (21) threw more interceptions than Winston (18) last season, when he also fumbled 10 times. Creaky Carson Palmer and rookie Carson Wentz were the only quarterbacks who put the ball on the ground more often.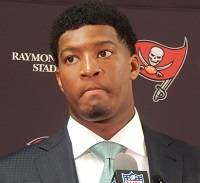 Winston has to improve significantly on third down, where he is a 58 percent passer in his career, with 15 TDs and 14 interceptions. Last season, Winston had a lower fourth-quarter passer rating (77.5) than Colin Kaepernick, Blake Bortles or Brock Osweiler.
It also takes Winston too long to find his groove. Through two seasons, he has tossed only five scoring passes in an opening quarter.
The best news of all is that Dirk Koetter doesn't coddle his most important player. He doesn't gloss over Winston's poor decisions or make excuses for errant throws.
Through it all, Winston's ceiling is so high that I'm not sure the Bucs would trade him for any player in the league, including Andrew Luck, Derek Carr and Dak Prescott.
When Stanford coach David Shaw was recently asked about Deshaun Watson as an NFL prospect, Shaw compared him to Winston in terms of his natural leadership skills. Shaw said Watson and Winston boast an intangible he labeled as the X-factor.
That's the biggest point of all when it comes to Winston's exciting future. You can tinker with a quarterback's footwork, adjust his arm angles and improve his decision-making, but you can't inject charisma and confidence.
Year 3 is dead ahead for young Mr. Winston. Anybody betting against him?
Tampa Bay's only Pro Football Hall of Fame voter, Ira Kaufman, and the regions most beloved and esteemed columnist, has hung his hat at JoeBucsFan.com world headquarters since July 2016. His columns pop here every Monday, Wednesday and Friday, and his award winning podcasts fire every Tuesday and Thursday.