Dirk Koetter's "Badass" Formula
May 3rd, 2017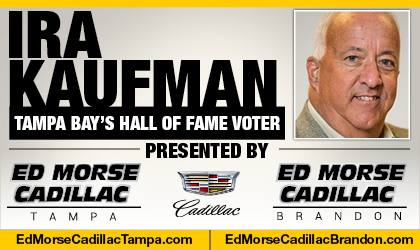 BY IRA KAUFMAN
We're more than four months away from the opener at Miami and this is already shaping up as the most unique season in Bucs history.
A franchise defined by stifling defense during two championship runs decades apart is suddenly poised to become an offensive juggernaut.
Right now, all that firepower remains strictly on paper. Label it "potential." But Buc fans are drifting off to sleep with thoughts of a wide-open attack, a take-what-we-want approach with Dirk Koetter as the crafty mastermind.
Did you see the smile on Koetter's mug last week when Jason Licht picked up the phone and informed O.J. Howard he was about to be a Buc? The last time Koetter sported a grin that wide was when the Glazers informed him his dream of being an NFL head coach was about to become a reality.
In 1979, when the Bucs reached the NFC title game in only their fourth season, defense ruled in Tampa, led by Hall of Famer Lee Roy Selmon.
From 1997-2002, when the Bucs won a Super Bowl and made the playoffs five times in a six-year span, defense again ruled the day, led by Hall of Famers Derrick Brooks and Warren Sapp.
That was the era when Tampa Bay's defensive players would walk up to their quarterback and say give us 17 points — we'll do the rest.
Those days are over.
Good riddance.
Busting 389
The 2017 Bucs look locked and loaded behind Jameis Winston, who just might be throwing to the best set of targets in the league.
Winston's challenge this year is spreading the ball around to Mike Evans, DeSean Jackson, Cameron Brate, Adam Humphries, O.J. Howard and Chris Godwin.
Talk about weapons.
The offensive line and the backs must do their jobs, of course, to make it all work, but make no mistake … those new video boards at Raymond James Stadium should be well stocked with Buc highlights this fall.
We all realize the offensive bar isn't set very high around here.
The 2012 Bucs set a franchise record by scoring 389 points in Doug Martin's stellar rookie season. With Josh Freeman throwing 27 TD passes, that club scored at least 21 points in 12 games and overcame a 1-3 start to stand 6-4 at one stage in Greg Schiano's inaugural season.
During a stunning six-week span, the Bucs averaged 34 points and 432 yards per game before Freeman and the defense fizzled down the stretch.
Freeman's main targets that season were Vincent Jackson, Mike Williams, Tiquan Underwood, Dallas Clark and Luke Stocker.
Need I say more?
The 2000 Bucs own the franchise mark by ranking sixth in the league in points scored, with Les Steckel serving as offensive coordinator. Shaun King played well under center, throwing to Keyshawn Johnson, Jacquez Green, Reidel Anthony, Dave Moore and Patrick Hape.
Need I say more?
"Badass" Offense
Like any head coach, Koetter craves balance, keeping defenses guessing and minimizing 3rd-and-long situations.
But given the studs now at Winston's disposal, would any Buc fan be shocked if Koetter comes out 4-wide and challenges defenses to pick their poison?
Koetter says he wants a "badass" football team. I can't think of anything more "badass" than putting up 40 points when the Saints come marching in.
How about strafing the fat-cat Falcons for 38 and making Luke Kuechly's head spin around like Linda Blair when the Bucs travel to Charlotte?
Last year's Super Bowl participants, Atlanta and New England, ranked No. 3 and No. 4, respectively, in passing yards. The Bucs floated in the middle of the pack, but that was before the cavalry came to town.
Brace yourself, people. These are not your father's Buccaneers.