Hallway Hollering
May 18th, 2017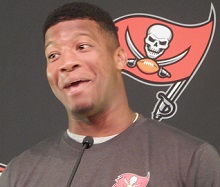 Lavonte David said new, big-money defensive tackle Chris Baker is "sparking up the locker room?"
But who is sparking up Baker?
Baker told the Pat & Aaron show on WDAE-AM 620 recently that he's been busy bonding with teammates and they already are understanding that he's a prankster and a guy who likes to joke around.
Man, thank goodness, Bakers is a long-time friend of "naturally pissed off" defensive end Robert Ayers; the two were rookies together in Denver. Joe can only imagine the potential clash of those veterans if they didn't understand each other at the outset.
While Baker is providing energy, he said he's getting energy from America's Quarterback, Jameis Winston, who commands Baker's attention.
"Jameis Winston always holler at me every time he sees me in the hallways. He says, "Hey, Chris Baker!" the free agent from the Redskins  shouted in his best Jameis impression.
Joe wonders if Jameis is subtly sending a message to Baker. Sort of, "I love you, but I'm watching you at all times, newcomer."
As Joe has written previously, there appears to be — in May — fantastic chemistry on this 2017 Bucs team, a special blend.