Five Pro Bowlers On The Offensive Line
May 22nd, 2017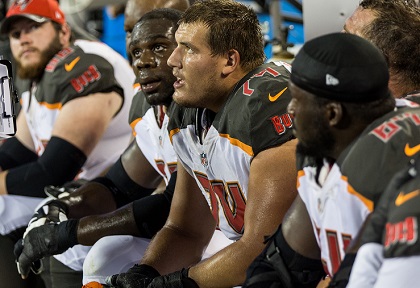 Renowned former St. Pete Times sports columnist Gary Shelton walked up to Joe at One Buc Palace last week and delivered a quality one-liner after talking to offensive line coach George Warhop.
"How bout that. We have five Pro Bowlers on the offensive line," Shelton said.
Joe laughed.
Joe, too, had just listened to Warhop talk about every guy on his unit as if they were true and pure studs. This is a pretty typical May phenomenon in the NFL, but Warhop really took it far.
Warhop wasn't being ridiculous; Joe isn't implying that. Warhop simply loves his guys, believes in them and expresses their strengths eloquently and with great passion — even second-year guys like Caleb Benenoch and Leonard Wester.
A media member asked Warhop whether Demar Dotson would be competing for his job at right tackle, and Warhop got a little jacked up, served up a stern look, and replied something like, "unless somebody tells me otherwise."
So yes, the Bucs love their offensive line and that love is very real. It was through last season — even in the face of so many fans and analysts thinking the O-line is at the root of what killed the Bucs' playoff hopes.