Ending The "SAM Syndrome"
May 19th, 2017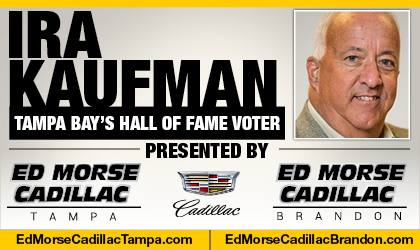 BY IRA KAUFMAN
There's no job considered more expendable in the National Football League than playing strong-side linebacker for the Tampa Bay Buccaneers.
Also known as the "SAM," these guys come and go at One Buc Place like autumn leaves.
Need proof?
Since 1995, the Bucs have used Lonnie Marts, Rufus Porter, Jeff Gooch, Shelton Quarles, Al Singleton, Ryan Nece, Ian Gold, Cato June, Quincy Black, Adam Hayward, Danny Lansanah and Daryl Smith as starters on the left side.
It appears this will be second-year pro Devante Bond's job to lose in training camp, although he may be pushed when rookie Kendell Beckworth fully recovers from a torn ACL suffered six months ago.
You would think defensive coordinator Mike Smith would be concerned about the retirement of savvy veteran Daryl Smith, but I'm not sensing much worry at Buc headquarters. Maybe that's because anytime Tampa Bay's "SAM" turns in a splash play, it's considered gravy, a gift from the football gods.
26-Year Drought
Strong-side linebackers for the Bucs rarely get their name in the newspaper or a mention on local sports talk radio. Heck, it's considered a miracle when you see them pop up on the video board at Raymond James Stadium.
You can understand why all those "SAMS" in pewter were relatively anonymous when Derrick Brooks was carving out a Hall of Fame career on the weak side in the iconic Tampa 2. That scheme was designed for Brooks to make plays — and he made a ton of 'em on the way to Canton.
But Brooks hasn't made a tackle since Jon Gruden stalked the sidelines and the Bucs have steadily veered away from the Tampa 2.
Still, the search for a strong-side playmaker goes on.
By definition, the "SAM" position requires a lot of grunt work. He is usually responsible for taking on the lead blocker and holding the edge so someone else can make the stop. He is often tasked with covering tight ends in the intermediate zones.
The vast majority of the time, Tampa Bay's strong-side linebacker is lifted when the Bucs are in the nickel, so we're talking about a player who is off the field 65 percent of the time.
No wonder no "SAM" linebacker for the Bucs has earned a Pro Bowl berth since the franchise switched to a four-man front in 1991.
The Bucs believe Beckwith has a chance to end all this anonymity.
"It depends on if that strong-side linebacker that you're looking at has value as a pass rusher, or some kind of value as a fifth rusher or in coverage," says Jason Licht. "If he's strictly a two-down player, he's probably not going to be as high on this board. Beckwith has played with his hand down — he's rushed and he's played on the line of scrimmage. So those are all things that you look for in a 'SAM,' being able to butt heads and play physical."
Talent Shift
The Jaguars are switching Myles Jack to middle linebacker this fall and moving veteran Paul Posluszny to the strong side.
"SAM will be on the ball more – lining up on a tight end, which I've never done before," Posluszny says. "That will be a challenge."
Atlanta has big plans for first-round pick Takkarist McKinley, utilizing him on the strong side while in base coverage and at right end when the Falcons are in nickel.
Now it's Mr. Bond's turn to solve this mystery. Lansanah looked like a keeper in 2014, when he picked off three passes from the strong side, returning two for scores.
But by March of 2016, the Bucs decided it wasn't worth their while to even tender Lansanah as a restricted free agent. He hasn't played a down since, and he's still looking for a job.
Another victim of the SAM syndrome.