More Doug Martin Dodging
May 2nd, 2017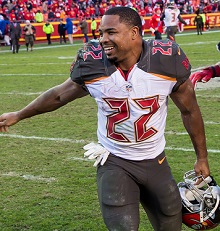 Joe can't believe there are so many out there who really believe the Buccaneers are going to put their faith in Doug Martin again.
First, Martin has had three bad seasons out of his last four. Joe's no math major, but even a third-grader can understand that.
Martin also is coming off a terrible year, one in which his head coach benched him in the biggest game of 2016.
He's also suspended for the first three games of 2017.
He's also set to earn nearly $6 million this year and the Bucs should have zero interest in paying Martin that kind of cash.
And then there's Martin long history of injury.
Martin is a nice guy, and his picture adorns the side of the Stadium on Dale Mabry Highway. But reality is reality.
Also, the Bucs just drafted a running back in the fifth round. Does anyone really think the Bucs intended to draft a backup running back? If they did, then Jason Licht needs a urine test, much like the many tests Martin must pass between now and when he's eligible to return after Week 3.
This morning, general manager Jason Licht was asked a simple Doug Martin question on NFL Network by Good Morning Football host Kay Adams.
"Do you forsee him playing a role on the 2017 Buccaneers?" Adams asked about Martin.
Licht had plenty to say, lots of positives about Martin and the Bucs running backs, but yet again, Licht didn't say, "Yes."
And neither has Dirk Koetter ever said Martin is expected to step back into the Bucs huddle when he's available.
As Tampa Bay's only Pro Football Hall of Fame voter, Ira Kaufman, has said on his podcasts and in his columns written here at JoeBucsFan.com, the Bucs are saying all the right things about Martin but Martin never gets an endorsement.
Is Martin an option for 2017? Sure. But that doesn't mean he's a wise option, or one that seasoned football men like Koetter and Licht will or should trust for their team.