Doug Martin In Car Accident
May 4th, 2017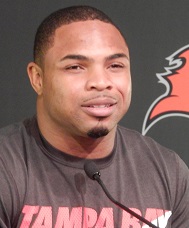 UPDATED: 5:02 p.m. – Joe first saw the news at 4:39 p.m. on Twitter as shared by Paul Ryan of WFLA-TV, Ch. 8.
Per Tampa Police, at approximately 1:15 p.m. today, Martin was traveling eastbound on Azeele Street. The driver of a black Kia traveling southbound on Habana ran a stop sign and collided with Martin's black BMW in the middle of the intersection. Martin's vehicle was displaced from the roadway and hit an air conditioning unit outside of a local business. Martin received minor cuts and bruises. Tampa Police officers responded to the scene and cited the driver of the Kia for committing a stop sign violation.
Martin lives year-round in a Tampa house he purchased two years ago.
Joe hopes the medical report is accurate and this is nothing serious.
General manager Jason Licht issued a statement to assure fans Martin is OK.
"Doug was the unfortunate victim in an auto accident earlier today after leaving our team facility. While Doug's vehicle sustained a large amount of damage, we are pleased to report that he received only minor cuts and bruises. He has been evaluated by our medical staff and has headed home."