Dirk Koetter Answers A Doug Martin Question
May 8th, 2017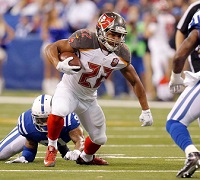 As regular readers here know, Joe doesn't snooze on Tampa Bay fans. There are no off hours while Joe scours the globe for interesting Bucs news, notes and nuggets to share.
It's a life obsession for Joe.
So, of course, Joe was ready when winning Bucs coach Dirk Koetter joined SiriusXM NFL Radio late at night after the third round of the NFL Draft.
Koetter was asked about the status Doug Martin by USA Today writer Tom Pelissero.
Here's the exchange:
Tom Pelissero: There was a lot of speculation about Dalvin Cook potentially being the target on No. 19. Three rounds now, you haven't taken a running back. What if anything does that tell us about how you feel about Doug Martin?

Dirk Koetter: Well, I don't know just if you just single out Doug Martin. But, you know, we feel pretty good about our running backs in general. You know, people tend to forget that it was just the 2015 season, just two seasons ago, Doug was the No. 2 rusher in the entire league. So, you know, we do have Doug Martin. We brought in Jacquizz Rodgers last year. And Jacquizz, all he did was play good football for us. Charles Sims is another guy that had some injury problems for us last year who had a really nice year in 2015. And then we got a young guy that came on here as a free agent last year, a rookie out of Auburn, Peyton Barber. Peyton is a guy we have high hopes and high expectations for. He's come in here and done a good job. The draft's not over yet, No. 1.

But you can't, you know with seven picks and we traded one, so now six picks, you can't, you can't, you're not going to draft guys at every position. You have to feel good about the guys you have. And then if you're taking the best players that you think are going to help your team for the long run, plus there's 31 other teams picking, it just doesn't always fall exactly the way you want it to.
Joe will leave Bucs fans to interpret the head coach's answer however they wish. There's a lot of directions to explore there, especially with plenty of time to kill in early May. And, of course, the Bucs drafted a running back in Round 5.
Somebody poke Joe when a team official says anything that resembles, "Doug Martin is a our No. 1 running back and we can't wait to pound the rock with him."
That's not happening, despite what various media wants you to believe. Joe hopes Martin scampers for 2,000 yards with the Bucs next season, but Joe would be quite surprised if he's even on the roster when his suspension ends in Week 4.