Cameron Brate: "It's Awesome And It's Different"
May 26th, 2017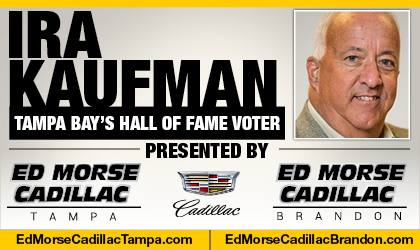 Tampa Bay's only Pro Football Hall of Fame voter, Ira Kaufman, the most beloved and esteemed columnist in town, has hung his hat at JoeBucsFan.com world headquarters since July 2016. His columns pop here every Monday, Wednesday and Friday, and his award winning podcasts fire Tuesdays and Thursdays.
BY IRA KAUFMAN
Let's take a moment to talk about Tampa Bay's OTHER tight end.
You know, the one who finished second to Mike Evans for the team lead in catches, receiving yards and touchdown grabs.
At the tender age of 25, Cameron Brate is in danger of becoming the forgotten man on a potentially devastating passing offense. That's what happened when rookie Alabama tight end O.J.Howard, ranked in the top five on the Bucs' draft board, miraculously fell into Dirk Koetter's clutches at No. 19.
The additions of Howard, DeSean Jackson and Chris Godwin have Jameis Winston salivating for the start of the season, but don't sleep on Mr. Brate, who surprised everyone at One Buc Place — and perhaps even himself — with a breakout 2016 season.
"You can definitely feel the excitement around here," Brate said this week following an OTA session. "Chris has looked great and, obviously, DeSean just moves at a different speed than anyone else on the field. O.J. is showing everyone what he can do. I think we're going to be pretty hard to defend."
You don't have to be an Ivy League scholar to know Brate just majored in understatement. Factor in Adam Humphries and you can make a convincing case that Winston will be throwing to the best set of targets in the league this fall.
New Faces & Defensive Confusion
Speaking of the Ivy League, Brate couldn't wait to welcome Ryan Fitzpatrick to the fold.
"This is my first time playing with another Harvard guy," Brate said. "The first time I met Ryan was this week, but he's a legend up in Cambridge. It was cool to finally shake his hand. He's a really good guy."
Koetter has big plans for Howard, who didn't put up huge numbers with the Tide. That's alright, neither did Julio Jones.
But Howard hasn't caught a single pass as a pro while Brate seemingly kept securing every football Winston threw his way. There will be many times when Brate and Howard are on the field together as Professor Koetter forges mismatches.
"It'll make it a lot harder on defenses," Brate said of the double-tight end alignments. "With just one tight end in the game, it's usually going to be a pass. But when you have two tight ends, especially with me and O.J., it'll be pretty hard for the defense because we'll be able to run the ball out of it. And we both think we're pretty good running down the field catching passes as well."
With all these weapons at his command, Winston can spread out the defense. He should be able to get the ball out of his hands more quickly and make opponents pay a severe price for having the audacity to place eight men in the box.
At the same time, Winston needs to spread the ball around and keep his teammates happy. Brate doesn't think that will be a problem.
"As long as we win, everyone will be fine," he said. "I know that's a cliché, but that's really all it comes down to. The nucleus of our team has been here for a few years. We've come up from the bottom and now we're an ascending team, so that makes it even more fun to win. Everyone in our tight end and wide receiver room is more than willing to give up some targets for wins any day."
Higher Standards … For Everyone
Brate can feel the energy brewing in the Bay area. He hears it in the shops and cafes … from the stick carriers to the mail carriers.
"It's awesome and it's different," Brate said. "When I go out, everyone is asking me about DeSean, asking me about O.J. It's something I'm not used to. We picked up some nice wins last year, but we didn't finish the way we wanted to. We're obviously building something here."
Brate isn't taking the selection of Howard personally. And while Howard brings a rather unique skills package to One Buc Place, Brate remains confident he will continue to grow.
"Yes, I put some good stuff on tape last season, but nothing changes for me in terms of my preparation," he said. "At this point of the year, you're out here still trying to find things to work on. Coach Monken really stresses that every day — don't get complacent and try to improve on some aspect of your game each day."
A 9-7 finish and a dynamic offseason have raised expectations at Buc headquarters for players and management alike.
Brate's response? Bring it on.
"It's awesome," he said. "We're holding ourselves to a high standard around here. Our fans should be, too."