"I Believe In Weeding Out The Weak"
May 10th, 2017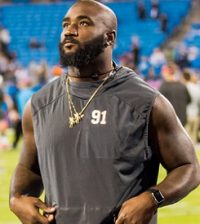 Bucs fans paying attention know Robert Ayers is the big bad bully of the Tampa Bay defense.
Ayers isn't a jerk. He just oozes real with supreme confidence, and he has extraordinary high expectations for teammates and let's them know it.
The real Ayers was on display for Joe and local media today at One Buc Palace. Ayers even dropped an expletive when discussing the head-butt personal foul by America's Quarterback, Jameis Winston, in Dallas last December.
Joe asked Ayers for his impressions on the Bucs' 2017 NFL Draft and the new-look offense.
Ayers rolled into how he thinks tight end O.J. Howard is a stud but he didn't like that he played for Alabama. Regardless, Ayers sees a man he can mold — even if he's on the other side of the ball.
"I feel I can play a part in making him better," Ayers said of Howard. "You know, in practice and stuff. So I look forward to that challenge of trying to go at him, not necessarily to make him tougher, but to challenge him and to push him to get better. You know, I think that's what this is about is everybody pushing and challenging each other.

"… I believe in weeding out the weak. You know, if we got somebody that's soft, I want weed him out. When he comes in, I'm going to try to challenge him whether it's offensive lineman or whoever. You can see early who is going to fold and who's not. That's how I look at things."
Love that guy.
Ayers added that he expects rookies to "bring it back," and Ayers won't try to hurt Howard or any rookie but the game is about plucking the weeds on a roster.
That chatter reminded Joe a lot of the words of a certain Hall of Famer and his weeding philosophy.