Perfect For Jameis
April 28th, 2017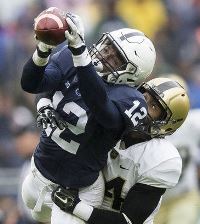 The people that just nitpick the hell out of things, especially when it comes to America's Quarterback, Pro Bowler Jameis Winston, this selection of Penn State wide receiver Chris Godwin is right up your alley.
A couple of weekends ago Joe watched the 2017 Rose Bowl, which featured a pair of blue blood programs, Penn State and USC. There, Godwin put on a show.
From what Joe could tell, Godwin went up against uber defensive back Adoree' Jackson three times. The score? Godwin 2, Jackson 1.
Godwin caught passes in traffic. More importantly, Godwin caught errant passes, going over the middle and then transforming his body to catch passes behind him, over his head, and short.
What do the nitpickers always whine about when it comes to Jameis? That he is inaccurate.
The way Godwin seems to catch anything within the same WiFi signal range should please the crowd that is not satisfied with Jameis.