"The NFC South Is Where Defensive Coordinators Go To Perish"
April 14th, 2017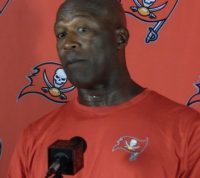 Joe picked up a great quote at the NFL Owners Meetings last month in Phoenix, and it was an ironic and telling one, too.
Chatting with new Bills head coach Sean McDermott, the longtime Panthers defensive coordinator who interviewed for the Tampa Bay HC gig in 2016, Joe was fishing for his take on preparing against the Bucs' offensive line.
McDermott wouldn't go there, but he did serve up his perspective on the division.
"The NFC South is where defensive coordinators go to perish over the years. It's like graveyard, you know," McDermott said. "Some good coaches have gone through there. It's because of the talent on the offensive side of the ball in that division; Tampa Bay is one of them, now with signing DeSean [Jackson], as well, and what Dirk [Koetter] has done with that offense and that system. He runs a great system. They're primed for success for many years to come."
First, this was ironic because McDermott didn't "perish" at all. He thrived and got a head coaching job.
But his take did illustrate how the Saints, Bucs and Falcons have burned through renowned defensive minds through this decade. Lovie Smith and Leslie Frazier arrived in the NFC South has defensive masterminds and left as outcasts. Frazier was re-hired by McDermott in Buffalo.
After one year of success each in the NFC South, Rob Ryan and Mike Nolan got brutalized by division foes in a hurry, and there were other examples.
Joe relayed McDermott's comments to Koetter, and Koetter laughed and talked about how happy he was that McDermott is now out of the division. He talked about so many years squaring up against McDermott's well prepared defenses.
Change at defensive coordinator in Carolina and New Orleans could benefit the Bucs, who are a surprising new model of coaching consistency in the division. Team Glazer throwing bags of cash to lock down Mike Smith for two more seasons was a huge, huge move.
Joe doesn't think Smith is going to "perish" anytime soon.