Joel Glazer Talks "Egos," Experience & New Era
April 3rd, 2017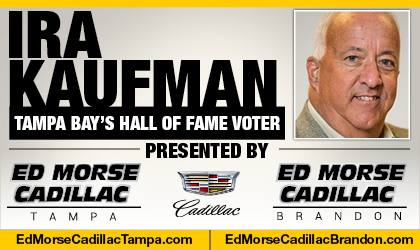 BY IRA KAUFMAN
Joel Glazer looked particularly relaxed last week at the NFL owners meetings in Phoenix.
The co-owner of the Buccaneers wasn't smiling about the lush grounds, the deluxe spa treatments or the prompt room service at the Arizona Biltmore.
What has him feeling upbeat is your local football team.
Beyond the 9-7 finish, Glazer is thrilled about the prospect of sending boatloads of cash toward franchise cornerstones like Jameis Winston and Mike Evans. Other young mainstays like Kwon Alexander, Ali Marpet and Donovan Smith also have lucrative extensions on the horizon.
"That's when you know you're headed in the right direction," Glazer said in our private meeting. "If you don't have your own guys to re-sign, that's generally a sign you're not drafting and developing well enough."
Gerald McCoy and Lavonte David were granted contract extensions in recent years — but that used to be a routine process at One Buc Place when Tampa Bay was a perennial league power.
The Bucs used to make it a point to keep their nucleus together, so Derrick Brooks, Warren Sapp, John Lynch, Ronde Barber and Mike Alstott weren't going anywhere until the Glazers were allowed to hoist that Vince Lombardi Trophy.
A lot of money was spent keeping the gang together, but things changed drastically after that Super Bowl.
Sapp and Lynch soon departed and Alstott's role diminished. By the time Tampa Bay made its last playoff appearance five years later, there were few studs remaining to build around.
What followed was nine years in the NFL wilderness, marked by a flurry of head coaches and dwindling fan interest. ESPN and NFL Network shunned the Bucs and national writers avoided the team as if MRSA was dripping from the walls at One Buc Place.
Times have changed.
Big-Money Ball
"Now we've got to be smart with the salary cap," Glazer said, "but we're entering an era that is very exciting."
It took five consecutive years in the NFC South basement to set the stage for this Buccaneer resurrection.
After waiting decades for his shot at the big time, Dirk Koetter proved his worth as an NFL head coach. He doesn't coddle Winston … and that's a good thing.
The man who brings Koetter the players has the full support of the men who write the checks.
"We couldn't be more pleased with the job Jason Licht has done," Glazer said of the fourth-year GM. "If you look at his drafts, Jason has done an excellent job building the nucleus of this team. When I look at a GM, I look at how are the drafts going?"
Licht is still waiting for his contract extension. One more successful season should keep him in Tampa for quite awhile.
"Nobody's going to get it all right," said Glazer. "But Jason's vast experience is coming through. We have great faith in our general manager and it's important that he has a great relationship with Dirk. They talk things through, they respect each other and their egos are in check."
Stability Models
It's been an interesting offseason in the division.
While the Bucs kept their coaching staff relatively intact, the Falcons saw offensive coordinator Kyle Shanahan leave for the top job in San Francisco, working with Lynch.
Sean McDermott, one of the NFL's premier defensive coordinators in Carolina, will now try to turn around the Bills while the Saints are hoping veteran Ted Ginn Jr. can replace Brandin Cooks as a big-play threat for Drew Brees, who is growing impatient after three consecutive 7-9 finishes.
"To me, the Bucs are right there," says Hall of Fame coach Tony Dungy. "Players will embrace the raised expectations in Tampa and Jameis Winston has proven himself to be a natural leader."
Next March, the NFL owners meetings will cross three time zones and return to Florida. That smile on Joel Glazer's face in Orlando will say it all.
Ira Kaufman is the Tampa Bay' area's only Hall of Fame voter. He pens columns three times a week here on JoeBucsFan.com, and his award-winning podcasts pop every Tuesday and Thursday. Falcons owner Arthur Blank calls Ira "Irv," and Ira is well known for never turning away free food.