"Where's Aqib Talib When You Need Him?"
April 19th, 2017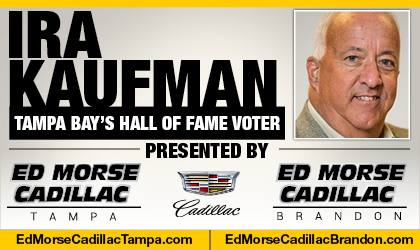 Tampa Bay's only Pro Football Hall of Fame voter, Ira Kaufman, has hung his hat at JoeBucsFan.com world headquarters since July 2015. His columns pop here every Monday, Wednesday and Friday, and his award winning podcasts fire every Tuesday and Thursday. 
Today, Ira takes a very different look at the Bucs' pending appearance this summer on HBO's Hard Knocks.
BY IRA KAUFMAN
We're about to witness a major spike in HBO customers across the Bay area.
Cable TV providers stand ready to cash in as Buc fans brace for an inside look at the team on Hard Knocks, which has offered viewers a behind-the-scenes look at training camps for 11 seasons since 2001.
Through 57 episodes, camera crews and microphones have swarmed over club facilities to provide an all-access view. Now, it's Tampa Bay's turn as one of the NFL's youngest teams attempts to end a nine-year playoff drought.
In keeping with the HBO theme, here's how the cast at One Buc Place fits in with some of the network's most memorable programs through the years.
BAND OF BROTHERS: GM Jason Licht and head coach Dirk Koetter can only hope there's enough camaraderie in the locker room to convince HBO subscribers that the Bucs are a mature, driven franchise.
ENTOURAGE: Before veteran wide receiver DeSean Jackson catches his first important pass from Jameis Winston, HBO's invasive cameras will follow him and his crew all over town. And we're not talking about visits to IHOP.
TRUE DETECTIVE: Look for the early clues as Ali Marpet tries to make the challenging transition from guard to center.
WESTWORLD: There's a chance Koetter will utilize more of a West Coast attack, given Jackson's ability to turn those shallow crosses and slants into long gains.
THE LEFTOVERS: The Bucs are hoping second-year players like Vernon Hargreaves and Noah Spence develop into stars this fall after solid rookie seasons.
GAME OF THRONES: While Winston is clearly the smiling face of the franchise, there is a friendly duel on the defensive side. Fiery Kwon Alexander is coming on strong, but don't count out would-be king Gerald McCoy, who sounds determined to raise his Pro Bowl game to another level.
DEADWOOD: Hard Knocks tends to focus on the fringe players desperately trying to make the final 53. With the bottom of every NFL roster churning over each year, let's see which Bucs are destined to be the forgotten few.
CURB YOUR ENTHUSIASM: Winston can't wait to get going, knowing it's almost impossible to overthrow Jackson or toss a ball out of the reach of Mike Evans. Still, Buc fans expect more accuracy in Year 3, especially when he's in the pocket.
SIX FEET UNDER: The safety position will feature competition among Chris Conte, Keith Tandy and newcomer J.J. Wilcox. No matter which tandem emerges, we're not talking the next John Lynch here.
TAXICAB CONFESSIONS: Where's Aqib Talib when you need him?
THE COMEBACK: Doug Martin appears determined and in shape as he tries to convince the Buc brain trust he can be trusted again. Martin isn't much of a gabber, but his resurrection is sure to be a Hard Knocks focal point.
BIG LOVE: Winston almost always makes it a point to praise his teammates, win or lose. At some point, he'll undoubtedly compare Marpet and company favorably to the stout offensive line of the Cowboys.
REAL SPORTS: Competition has always been the essence of sports and the kicking battle between Roberto Aguayo and Nick Folk will surely be gripping theater. HBO cameras will be there to document all the drama, shank by shank.
THE SOPRANOS: Watch the Bucs reach for all their weapons in a weekly effort to defeat a common enemy. The soundtrack for this Hard Knocks series? That's easy — "Don't Stop Believin' " by Journey, of course. The same song that was playing when those HBO cameras faded out on Tony Soprano.
HUNG: No comment.