Divided We Stand
April 14th, 2017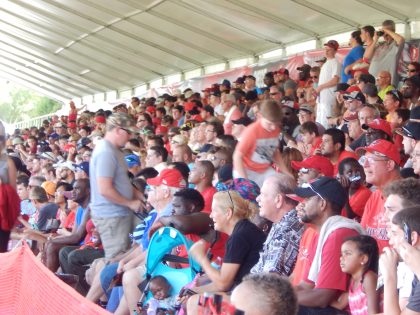 It's been a long, long time since Bucs fans — even the hardest of the hardcores — have had such wide-ranging desires and goals for the team in the NFL Draft.
Stick four season ticket holders in a room and good luck getting a consensus on what positions the Bucs should address in the first two rounds later this month.
Joe has realized, whatever the Bucs do, there will be an uneasy vibe across much of the Tampa Bay area, despite the rampant optimism surrounding the 2017 Bucs.
Consider the 24-hour, JoeBucsFan.com poll that concluded this morning. It's all linked here.
Joe asked: In the first round of the NFL Draft, what position do you want the Bucs to select? 
Votes from 2,154 fans were as follows:
Running back: 31.3%
Defensive end: 23.5%
Wide receiver: 16.0%
Tight end: 11.0%
Safety: 8.4%
I don't know: 5.4%
Other: 3.25%
Cornerback: 1.16%
So the large majority of Bucs fans don't want a running back in the first round. In other words, the masses are hoping this afternoon that Dalvin Cook or Christian McCaffery won't get a congratulatory phone call from America's Quarterback, Jameis Winston.
If the Bucs draft a stud receiver on Day 1, then legions of fans will shake their heads at a perceived opportunity lost.
Joe's not going to extrapolate all the math here on what the vote above means for fans' feelings about what the Bucs should do in Rounds 1 and 2 combined. However, it's obvious general manager Jason Licht won't have many new fans in couple of weeks.
Joe is very open-minded when it comes to this year's draft except for one particular area. If the Bucs don't walk out of the draft with a legitimate NFL wide receiver, then that will be unacceptable.
For two consecutive seasons, the team's poor receiver depth was crippling. That just can't happen again. Absolutely can't.