Is Dirk Koetter "In Love?"
April 26th, 2017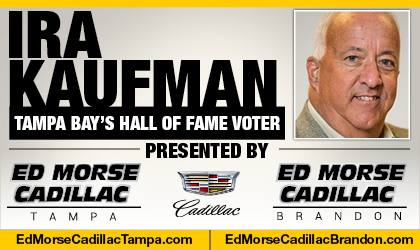 Tampa Bay's only Pro Football Hall of Fame voter, Ira Kaufman, has hung his hat at JoeBucsFan.com world headquarters since July 2015. His columns pop here every Monday, Wednesday and Friday, and his award winning podcasts fire every Tuesday and Thursday. 
BY IRA KAUFMAN
For the second time in three years, Buc fans have their eyes fixed firmly on a polarizing Florida State prospect heading into the draft.
In 2015, armed with the No. 1 overall pick, Jason Licht decided early that Jameis Winston had the look of a franchise quarterback, the first in Buc history. Two years later, few Tampa Bay fans would argue with that assessment.
On the brink of the 2017 draft, Buc fans are zeroed in on Dalvin Cook, the record-setting back who helped Winston lead Florida State to a national championship.
When the Bucs emerged as a perennial NFL power in 1997, they had just selected Warrick Dunn with the 12th pick in the draft. Dunn finished a terrific pro career in 2008 — 15,306 total yards from scrimmage.
Only 13 backs in NFL annals have more.
Dunn had been considered the best back in FSU history until Cook came along, averaging 16 touchdowns per season and 142 yards per game from scrimmage.
"When you have a guy like Warrick at the top of the list and see what he did with the program and as a human being, you have to humble yourself," Cook says.
How Deep Is The "Need?"
After a 2-14 disaster in 2014, the Bucs were desperate for a quarterback. Now there is a glaring need in the backfield. If Cook is still on the board at No. 19, he will be difficult to pass up.
Difficult, but not impossible.
This particular draft is rich in running back talent and the Patriots just won a Super Bowl with a primary back (ex-Buc LeGarrette Blount) who is still on the market, looking for a job.
No wonder Adam Schefter of ESPN is reporting today the Bucs looking to move back in Round 1.
In the NFL, there are needs — and then there are quarterback needs. All 32 teams have needs, but a hole at quarterback often leads to a draft-day blunder.
The Bucs are in position to grab the best player available and a compelling case can be made that the Bucs should choose Cook in the opening round. He's the kind of big-play talent Dirk Koetter craves, capable of going the distance any time he has the ball in space.
"I'm an every-down back," he insists. "On any given play, I can go 80 yards. I can change the scoreboard."
That he can.
Cook played well in big games and averaged a stunning 11.8 yards per catch in his 38-game college career. Cook isn't much of a blocker, but Koetter can surely work around that blemish.
There's a lot to like about Cook as a prospect, but there are also some red flags that signal caution.
Health issues are a concern because Cook has undergone three shoulder surgeries since high school. He's also had a few run-ins with the law and he hasn't always been effective running between the tackles.
Cook's combine workout was far from overwhelming, but so what? His college tape is rather exhilarating.
His football skills have been compared to Jamaal Charles, LeSean McCoy and Edgerrin James — and that's heady company.
The concerns appear trivial when you look at the film, but there's one issue that could end up being a game-breaker in Tampa.
Cook's a fumbler.
Koetter's Call
Those 13 career fumbles might scare the bejesus out of Koetter, a stickler for ball security. Every NFL coach talks about the importance of winning the turnover battle, but Koetter is fanatical about it.
Jameis Winston is still struggling with giveaways, and Koetter isn't about to sign off on a running back he deems unreliable.
Make no mistake — if Koetter isn't in love with Cook, Licht isn't going to turn his name in Thursday night.
Drafting a back in the first round is risky business. They have a short shelf life and this is a passing league.
Still, Cook could be special. In the first round, you want special.
If Cook is there at No. 19 and the Bucs pass or trade back, you will hear screams from Thonotosassa to Tarpon Springs. If I'm Licht, I stick to my board and take the highest-rated player still standing.
Unless he's a kicker.
JOIN IRA TOMORROW NIGHT!