An 11-5 Season For Mr. & Mrs. Buc Fan
April 21st, 2017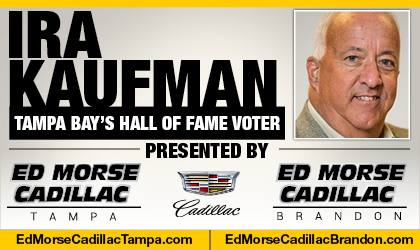 BY IRA KAUFMAN
I've been around enough Buc fans over the years to know what you're thinking.
Coming off a 9-7 season, buoyed by the addition of DeSean Jackson, you have been crying, waiting, hoping for the release of the 2017 schedule since the leaves stopped falling.
On Thursday, you got your wish as the NFL detailed Tampa Bay's path to the promised land.
Hope springs eternal for Buc die-hards who have endured too many losing seasons since Jon Gruden was told to take a hike.
With expectations ramped up, let's take a peek into the minds of Tampa Bay fans who have already broken down the 2017 slate.
AT MIAMI: The Bucs send an early message to Dolphins owner Stephen Ross – you can take your $400 million in stadium renovations and shove it. Ryan Tannehill spends much of the afternoon on his sweaty rump while Brent Grimes torments his former teammates.
CHICAGO: In a rare 1 p.m. September matchup at RayJay, the Bears wilt in the fourth quarter. There's no cool breeze coming off Lake Michigan for Mike Glennon and the overheated visitors as the Bucs open 2-0 for the first time since 2010.
AT MINNESOTA: The NFL's No. 3 defense makes things difficult for Jameis Winston at the shiny new home of the Vikings. Hey, not even Big Nasty really thought the Bucs were going 16-0.
NEW YORK GIANTS: The last time Tampa Bay defeated Big Blue, the Bucs were defending Super Bowl champions and Kerry Collins was under center for the Giants. Today, Mike Evans shows Odell Beckham who's boss.
NEW ENGLAND: Before a raucous prime-time crowd, the Pats let the Bucs know what NFL royalty looks like. Tampa Bay keeps it close before Tom Brady applies the deflating dagger.
AT ARIZONA: Dirk Koetter spends all week reminding his players about the desert debacle in Week 2 last season. Creaky Carson Palmer has nowhere to run, nowhere to hide against a vibrant pass rush.
AT BUFFALO: Home or away, this is an opponent the Bucs should beat. Kwon Alexander makes 15 tackles as Tampa Bay improves to 5-2.
CAROLINA: First division game for the Bucs and a midseason opportunity to let Cam Newton know what he's up against. Two TD catches by DeSean Jackson seal the deal.
AT NEW ORLEANS: Big test for a Bucs pass rush that failed to show up at the Superdome last year. A battered Drew Brees still makes enough plays to put a damper on any Bourbon Street celebrations.
NEW YORK JETS: The floundering Jets don't have a quarterback and Tampa Bay has Jameis Winston. Enough said.
AT ATLANTA: After a bye week, the Bucs invade Arthur Blank's fancy new digs and show the defending conference champs there's a new kingpin in the NFC South.
AT GREEN BAY: Aaron Rodgers and company are tough to beat on the frozen tundra as the Bucs turn for home at 8-4.
DETROIT: Matt Stafford pads his stats once the Motown men fall hopelessly behind as Tampa Bay fans go dancing in the streets down Dale Mabry.
ATLANTA: With Jon Gruden in the broadcast booth, the 10-4 Bucs complete a season sweep of the Falcons to essentially wrap up their first division title since Chucky stalked the sidelines in 2007.
AT CAROLINA: A bit of a Christmas Eve letdown in Charlotte makes the regular-season finale a key to postseason seeding.
NEW ORLEANS: The Saints have nothing to play for and it shows as the Bucs finish 11-5 and begin preparations for a home playoff game.
That's the world according to Mr. and Mrs. Buc Fan, who can't wait to order their playoff tickets. It should be a dynamic season, even if there will surely be some hard knocks along the way.