A Word About Glennon And $15 Million A Year
March 8th, 2017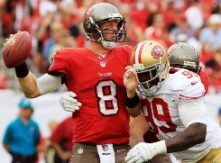 It appears there's confusion about Joe's attitude toward Bucs backup quarterback Mike Glennon.
The NFL Network report of Glennon about to sign for $15 million annually with the Bears means he will be handed their starting job.
Joe thinks the Bears are out of their minds to drop that kind of money on a guy who hasn't made a start since 2014, and a guy who they haven't even brought into their building yet for a thorough visit.
No, Joe doesn't hate Glennon. He's a great backup. There's no shame in that for a third-round draft pick.
But Joe can't see a sane club thinking Glennon is the guy to lead them to the promised land, unless it's a unique situation with a winning team that already has a smothering defense. The Bears are neither winners nor owners of an elite defense.
It's the same reason why Joe was outraged the Bucs made Josh McCown their starter. It was like waving the white flag on a Super Bowl dream.
Yes, Joe is much closer to the Bucs than a typical fan, and in that time, Joe sees nothing about Glennon that screams franchise quarterback, or face-of-the franchise, or Super Bowl contender.
Again, Joe has no dislike of Glennon and Joe expects Glennon won't embarrass himself as a starter. But at the end of the day, Glennon will be the fourth best starter in his division and the Bears won't win a title with him.
So that's why Joe is in stunned disbelief that the Bears would open the vault for No. 8.
Good luck, Mike.