Weekend Work For Jameis, D-Jax & Evans
March 23rd, 2017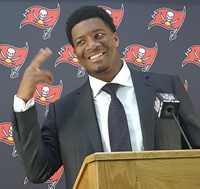 America's Quarterback, Jameis Winston, is throwing his weight around — and his wallet — according to DeSean Jackson.
Jackson joined the always goofy First Take on BSPN today and touched on all kinds of topics.
Jameis was in the mix, and Jackson shared that he'll be headed to Houston in a few days to workout with Jameis and Mike Evans. Jameis, per Jackson, said he wanted to take care of Jackson's expenses.
Who's ready for September? Joe sure is!
Other good stuff from Jackson in the video below, too, but not that much. (Jackson is before loudmouth Lavar Ball)