VIDEO: Mike Evans Has A Hobby
March 23rd, 2017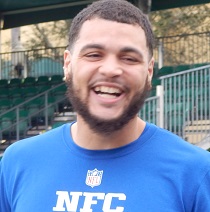 Joe learned quite a bit frolicking around the Pro Bowl grounds at Disney World.
Among them was a hobby Mike Evans has that makes a ton of sense.
Yes, Evans is the former K-Y hands receiver of 2015, who transformed himself into a menace to NFL defenses last year. There was nobody better at converting third downs, the money down.
Evans was truly special, and his hands improved immensely.
Hanging out with Evans at the Pro Bowl, Joe found out that Evans like to juggle. What a brilliant pastime for a wide receiver. Have fun and hone your concentration and hand-eye coordination.
Evans wasn't equipped with his usual juggling stuff, but he did step up and get after it with water bottles. Thankfully, Joe got the ol' camera rolling before Evans shut it down.
Joe thinks Evans might be on to something. Perhaps Dirk Koetter should hire a juggling coach to inspire guys to avoid becoming the next Michael Clayton.