GM Respect, Brewskie Rants & The Glazer Suite
March 22nd, 2017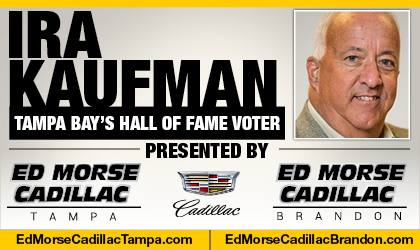 JoeBucsFan.com columnist Ira Kaufman types his sage wisdom every Monday, Wednesday and Friday, and his award-winning podcasts pop every Tuesday and Thursday. Of note, Ira will be peppering Bucs officials with questions next week at the NFL owners meetings in Phoenix.
BY IRA KAUFMAN
All these years later, he remains a polarizing figure for many Buc fans.
Was Rich McKay the architect of Tampa Bay's glory days — or was he was an overrated executive who turned traitor?
McKay is back in the news this week because the Falcons just gave him a five-year extension as team president and CEO. That's a nice birthday present for McKay, who turned 58 earlier this month and has been cashing lucrative paychecks from Arthur Blank since 2004.
It's hard to believe 14 years have passed since McKay left the Bucs, a franchise that hired his father, John McKay, as the club's inaugural head coach. Rich McKay served as a Bucs ball boy and played quarterback for Jesuit High before heading off to Princeton and a planned career in law.
As GM of the Bucs in 1995, his first two draft picks were Warren Sapp and Derrick Brooks. That's the greatest daily double in history for a first-time NFL GM, and he soon added Pro Bowlers like Mike Alstott, Ronde Barber and Warrick Dunn to the mix in later years.
After the Glazers purchased the team in 1995, McKay proved instrumental in the joint effort to build Raymond James Stadium and keep the Bucs from moving to Baltimore.
But by the end of the 2001 season, which concluded with another dreary playoff loss at Philadelphia, McKay's clout was compromised during a coaching search to replace Tony Dungy.
Blasted By Gruden
When the Glazers left him out of the mix and struck a deal with Bill Parcells, McKay figured he was toast. When Parcells pulled out at the last minute. McKay touted Marvin Lewis as Dungy's successor, but the Glazers rebuffed that choice and closed a deal with Al Davis for Jon Gruden.
During the 2002 championship season, cracks were formed between Gruden and McKay's personnel staff. By the following year, those cracks widened and McKay decided it was time to leave.
Did he return overtures from Blank while he was still employed by the Bucs? Yes he did, and for that, some Buc fans will never forgive him.
But I was there in Phoenix at the NFL's spring meetings when Gruden publicly disparaged McKay, less than two months after hoisting the Vince Lombardi Trophy.
Gruden openly suggested McKay spent too much time in his role as a member of the Competition Committee and not enough effort toward his GM responsibilities.
Other NFL executives walking by in the Arizona resort heard Gruden's rant, which may have been fueled by several brewskies. It was a shocking display of disrespect — and it was inevitable that McKay would hear about the unseemly display.
The Glazers were forced to choose between McKay and a coach who had just won them a Super Bowl.
Inside The Glazer Suite
McKay predictably lost the power struggle, replaced by Bruce Allen in 2004. We know how that one played out.
Initially hired as president and GM of the Falcons, McKay no longer has a primary role in football operations. He has been the point man for the construction of a new stadium to replace the Georgia Dome and Blank just rewarded him for a job well done.
Mercedes-Benz Stadium will open this summer and play host to the 2018 college football championship game, the 2019 Super Bowl and the 2020 men's Final Four in college basketball.
Not a shabby trifecta.
McKay may live in Atlanta, but he has family in Tampa Bay and still has a keen interest in the Bucs. When I asked him about working for the Glazers, he didn't sound bitter about his controversial departure.

"They give you the resources to win, they support your decisions and they never stop asking questions," McKay said. "I never had fear they would second-guess what we were doing, but they always want to understand the logic behind it.

"All you have to do is sit in the suite with them for one game and you'll realize how much they want to win, but I never thought they were meddlesome. Challenging? Inquisitive? Yes, they are. Malcolm empowered his sons to run the business, but when there were big decisions to be made, he didn't hesitate to weigh in."
McKay's tenure in Atlanta has been marred by one notable hiccup. In 2015, he was suspended from serving as Competition Committee chairman after the Falcons were found guilty of piping crowd noise into the Georgia Dome.
Although the league determined McKay was unaware of the violation, Blank allowed McKay to take the fall. So he played the good soldier and was reinstated five months later.
McKay had his faults as GM of the Bucs, but let's not hear any further nonsense about crediting the Sapp and Brooks draft picks to former head coach Sam Wyche.
It was McKay who pulled the trigger for a pair of Hall of Famers whose names now hang in the Ring of Honor.
Maybe some day, McKay will join them.