Koetter Jumps At Chance To Defend Jameis Winston Following Media Assault
March 1st, 2017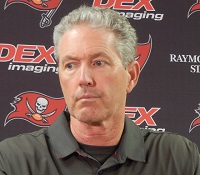 Unless you've been disconnected from ESPN, CNN, local TV news and the internet, you're likely aware that America's Quarterback, Jameis Winston, was clobbered by the Tampa Bay Times and national analysts last Wednesday.
Jameis' crime was unintentionally sending a two-sentence sexist message to elementary school kids during a 40-minute voluntary presentation focused on achievement and self-confidence.
Dirk Koetter witnessed the onslaught upon Jameis and was asked about it today at the NFL Scouting Combine.
NFL writer Sirius/XM NFL Radio host Howard Balzer: What's your thoughts coach on the whole thing with Jameis last week and almost as much the reaction to it?

Dirk Koetter: Yeah, I'm actually very glad you asked me that question because anyone who knows Jameis Winston, knows that when Jameis gets up in the morning, he's trying to do good things out there. Whether it be improve himself, help our team get better or do something good in the community.

Obviously, with the situation at the school last week, in the midst of a school presentation, Jameis, he made a mistake.  And he owned up to that mistake. He's 23 years old. I think that anyone who has to stand behind a microphone and talk to a group of people, you're going to make a mistake once in a while. And there's been other ones in the sports world very recently. Jameis continues to exceed expectations as the face of our franchise every single day. We couldn't be happier with Jameis. It was an unfortunate situation. He owned up to it and we got to move forward.
So there you have it from Koetter.
It seemed Koetter wanted to tell those who blasted Jameis that they really don't know Jameis' mindset.