Joel Glazer, Andy Reid & Marvin Lewis Break Down The DeSean Jackson Signing
March 29th, 2017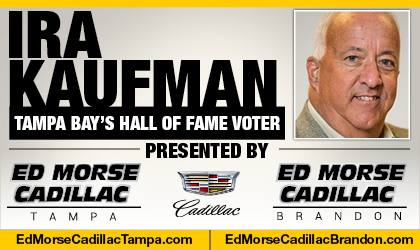 BY IRA KAUFMAN
PHOENIX — With one stroke of the pen earlier this month, the Bucs may have transformed the power structure of the NFC South.
Strolling along the lush grounds of the Arizona Biltmore resort this week, I've been struck by the impact DeSean Jackson has already made in a Tampa Bay uniform, weeks before the first OTA session at One Buc Place.
Whether I was talking to rival coaches or Bucs co-owner Joel Glazer, there is a palpable feeling here that signing Jackson represents a game-changing shift, a critical addition as Tampa Bay tries to chase down Atlanta and hold off Carolina and New Orleans in a division the Bucs haven't ruled since Derrick Brooks was still roaming the field in 2007.
"DeSean Jackson was a big need of ours," Glazer said during his annual state-of-the-Bucs conversation with JoeBucsFan.com. "It was important to get a guy with that track record as another weapon for Jameis. You see week in and week out in the NFL that you have to have guys who make big plays … it's one thing we've been lacking."
Andy Reid was Jackson's coach in Philadelphia for five seasons as he established himself as one of the league's premier deep threats. From his current vantage point in Kansas City, Reid is convinced the Bucs made a wise investment in free agency.
"I think DeSean can still play," Reid said at the AFC coaches breakfast. "He looked pretty good last year, I know that. In Tampa, he's coming into a pretty good core of guys and a quarterback I have a lot of respect for. Jameis can sling it, so Winston's probably the happiest guy in Tampa right now."
Unshackled
It's no secret that first-year coach Dirk Koetter didn't dial up many long-distance throws in 2016. Winston's longest completion of the season (45 yards) came in that Week 1 thriller at the Georgia Dome.
Koetter didn't feel he had a competitive advantage throwing downfield — and who can blame him? If speed kills, lack of speed kills innovative play-calling.
Enter Mr. Jackson, who is expected to resemble a pewter blur as he exploits opposing defenses on a weekly basis.
Bengals coach Marvin Lewis suggests Jackson's presence alone could put the Bucs over the top in their quest to end a nine-year playoff drought.
"Fans in Tampa have to be excited about how that team is being built," Lewis said. "They're in good hands with Dirk and Jameis Winston. One thing I know about DeSean Jackson is that he can stretch the field. The guy has great vertical speed."
And as Reid noted, Jackson has the ability to maintain that elite speed throughout the route.
"A lot of guys turn their body when the ball's in the air, cutting their speed in half," Reid said. "The difference with DeSean is he is just as fast when he's looking over his shoulder. Adding a guy like him means you can occupy people down the field, making your intermediate game even better than what it would normally be.

"The other thing is if teams want to go 1-on-1 with DeSean or put a safety on him, they've got problems."
Bigger Is Better
Jackson didn't make his bones in this league as a high-volume target, He has caught more than 62 passes only once during his first nine NFL seasons and his number of targets this fall will pale in comparison to Mike Evans.
So what? His catches count double.
"Very rarely do you see 12-play, 80-yard drives in our league," Glazer said. "You see them, but not often. It's the big plays you see week in and week out. The big strike can change a game like THAT. To add DeSean's firepower alongside Mike Evans makes you very excited."
Ira Kaufman pens columns for JoeBucsFan.com every Monday, Wednesday and Friday whether he wants to or not. Ira's award-winning podcasts fire Tuesdays & Thursdays. All his work can be found here.