Dirk Koetter No. 17
March 4th, 2017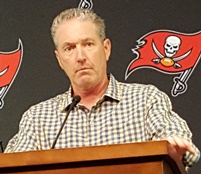 If Rotoworld is accurate in its grades, then winning Bucs coach Dirk Koetter is a middling NFL head coach.
But to read the list, Koetter also is walking among high cotton. He's right there with coaches who have led teams to Super Bowls, including Sean Payton, Ron Rivera, Dan Quinn and John Fox.
Koetter was ranked 17th in the NFL.
After a rocky start, Koetter continued to develop Jameis Winston, and coaxed a "bounce-back" campaign from third-year pro Mike Evans. Koetter wasn't afraid to lead, benching an ineffective Doug Martin down the stretch even though he was in the first season of a five-year, $35.75 million contract. Most impressive of all was the way Koetter's team finished, closing out the year 6-2 while allowing just 17 points per game. The hot streak included wins over Kansas City and Seattle. It all added up to Tampa's first winning campaign since 2010, and genuine reason to be optimistic about one of the oldest rookies you will ever come across.
That's really fair, if you ask Joe. Koetter got the Bucs on the cusp of the playoffs. In the NFL, 12 teams make the playoffs. So for a first-year head coach who was one win from a playoff berth, No. 17 isn't awful. In fact, it's about accurate.
Joe is willing to bet Koetter's ranking will rise a year from now.