Koetter Explains "Complicated" Call On Martin
March 29th, 2017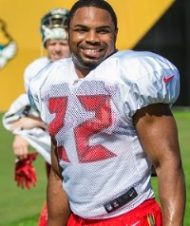 Doug Martin really isn't in the Bucs' plans.
That was Joe's takeaway from Dirk Koetter's extensive explanation about Martin's status this morning at the NFL Owners Meetings in Phoenix.
For you can't-get-enough-Bucs freaks out there, Joe typed up Koetter's comments verbatim.
Put Martin's drug issues aside for a moment, Martin's three-game suspension to start the 2017 season is what's really got Koetter looking elsewhere.
"That's a little bit of a complicated situation still because Doug is still looking at a three-game suspension when he comes back," Koetter said.

"You know, with talked with Doug a few weeks back when he came back to Tampa. He looked good, he sounded good. If you recall, at the end of the season, my comment on that was by far the most important thing was Doug regaining his health and that's an ongoing process. Doug will be coming back soon with the off-season program, hopefully with the offseason and for sure at minicamp.

"The way it's structured right now, you know, we've got the offseason coming up. We've got the draft coming up. We've got preseason coming up and then when we get to Game 1, that's when Doug would start his three-game suspension. So right now, we don't have to make a decision on that. We can let this thing play out. I mean, who knows what's going to happen? Are we going to add a running back in the draft? Is Doug going to continue down the path of good health, and then we've got other guys we like at that position, too. I don't know what's going to happen as I sit here today but right now we've got time on our side."
Ian Rapoport of NFL Network then asked Koetter if Martin would be on the Bucs in 2017, assuming he stays "on the good path healthwise?"
"Again, it's a unique situation," Koetter said. "I'm a Doug Martin fan. We would love to have Doug on our team. But when the guy who's been a Pro Bowl running back, you know you're not going to have him the first three games of the year, how do you do the reps? You know. I mean somebody, it's kind of a unique in that last year we got so beat up at running back. By week three last year we had already played six running backs.

"And that's how beat up we were. It's almost like he would be on [the physically unable to perform list] coming back for Week 4. But we don't know what we're going to do weeks one through three yet.

"I've never been in this situation before. [General manager] Jason [Licht] and I have talked about it multiple times, and right now it doesn't make sense to make any bold statements about it until we let this time pass."
Martin, however, has an opportunity here. If he reports with his teammates on April 17, and then is a hard-working Bucs citizen through spring practices, and he passes a lot of mandated drug tests in between, then he could earn back some trust from the organization.
If it gets to that point, then maybe, just maybe, before training camp the Bucs tell Martin they'll bring him back for this season under a restructured, prove-it contract.
More likely, Joe believes, Martin will have new team in July.