From Desert Storm To Desert Embrace
March 27th, 2017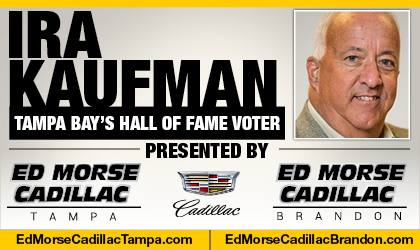 PHOENIX — The last time Jason Licht attended the NFL Owners Meetings here at the Arizona Biltmore, his body language was quite different.
In the spring of 2015, the Bucs were coming off a 2-14 season under first-year coach Lovie Smith and a first-year GM. Tampa Bay had gone winless at home and 0-6 against NFC South opponents.
It doesn't get much worse.
But when the meetings formally open here today, Licht will walk the hallways with head held high.
He won't strut, but he'll be glad to accept congratulations from fellow NFL executives for a job well done last fall, when the Bucs posted their first winning season since 2010.
Your favorite Buc website is out here in force this week, eager to bring you the juicy developments from the desert. We expect extensive interviews with Licht, co-owner Joel Glazer and second-year head coach Dirk Koetter, as the Bucs approach the start of their offseason program in April.
The last time Glazer and Licht checked into this posh resort, the Bucs were front and center in the national media. That's because they owned the No. 1 overall pick in a draft headed by Jameis Winston and Marcus Mariota.
Smith and Licht tried to be coy about which way the franchise was leaning, but you didn't need prescription lenses to read the tea leaves — it was going to be Winston all the way.
As it turns out, both quarterbacks look like young stars in the making.
Changed Tune
The Bucs have come a long way since that 2014 disaster. They quickly acknowledged their mistakes in free agency, dumping quarterback Josh McCown, left tackle Anthony Collins and defensive end Michael Johnson after only one season.
"We are already better,'' Licht vowed two years ago. "The addition of Dirk Koetter as offensive coordinator was huge. We've ripped off the 'Band-Aids' and we'll work feverishly to make sure we don't make the same mistakes twice. That's on me. It's better to cut ties a year too early rather than a year too late. We want players who want to be Bucs and players that are hungry. Ownership couldn't be more supportive.''
When Glazer makes his annual remarks this week, he won't be peppered with what-went-wrong questions. Instead, he'll be asked why Buc fans should feel confident the team will end a nine-year playoff drought.
"You go into every season expecting high standards," Glazer said in 2015. "One of the things I've learned is you can't look back, other than to learn from your mistakes and correct them. There's no question it has strained the patience of the fans and strained the patience of the owners and anyone who follows the Buccaneers. Everyone wants success and we haven't had that the last several years. We've got to solve the problems going forward."
But have they?
Landing a franchise quarterback is a heck of a start. The Bucs have also added Ali Marpet, Donovan Smith, Cameron Brate, Adam Humphries, DeSean Jackson, Kwon Alexander, Vernon Hargreaves, Noah Spence, Robert Ayers, Brent Grimes, Chris Baker and Bryan Anger since the last time the their accounting department received a hefty bill from the Arizona Biltmore.
There's a different Buc vibe in this resort.
"Driving Force"
Before heading home with his family, Licht expects to touch base with his friend Joe Maddon, finishing up his final week of spring training with the Cubs in nearby Mesa.
After Maddon regales Licht with stories about Chicago's championship season, Licht will inform Maddon that a forlorn NFL franchise may have just turned the corner.
That's a conversation any Buc fan would relish.
The last time Tampa Bay dispatched a contingent to the Arizona Biltmore, the Bucs were 2-14 and appeared to have taken up permanent residency in the division basement.
Now, they're movin' on up.
"I'll never get over it,'' Licht said of that miserable 2014 season. "It'll be a driving force for years to come.''