Bucs' Flirting With Nick Foles Is Over
March 13th, 2017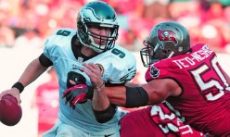 If you blinked last week you might have missed the Bucs getting serious about making Nick Foles their new No. 2 quarterback.
With Mike Glennon bolting for gargantuan cash and a starting gig in Chicago, the Bucs jumped right in looking for an experienced backup.
Foles appeard to be an ideal fit, but now he's going to back to the Eagles, per a deal announced this morning.
Ok, there are other fish in the sea. But now what does Philly do with Chase Daniel, the guy they made the NFL's highest paid backup QB last season?
Keep an eye on Daniel, primarily because he's an Andy Reid guy and spent three years in Kansas City with him, where many fans wanted Daniel to start over Alex Smith.
Dirk Koetter and and Reid are close and if the Bucs are really serious about paying an experienced backup, then Daniel, 30, could become a target.