The Ira Kaufman Plan: Kenny Britt And Three More Free Agents
March 8th, 2017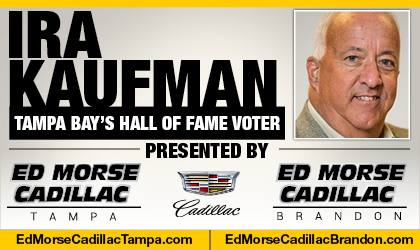 BY IRA KAUFMAN
Mike Evans wants to know the identity of his new partner, and who can blame him?
Evans turned in a Pro Bowl season in 2016, despite constant double teams from opponents who didn't lose a wink of sleep worrying about covering Adam Humphries, Russell Shepard, Cecil Shorts, Josh Huff or Freddie Martino.
Within a week, the Bucs will have a new No. 2 wide receiver. That's all we know for sure at this point, and the rumors are strong that DeSean Jackson sits atop Jason Licht's wish list.
That makes sense because Dirk Koetter covets a big-play target. Jackson leads all active players in career yards per catch (17.7) and he has at least one reception of 60 yards or more in each of his nine NFL seasons.
Buc fans are in a frenzy for Jackson, who still has game-breaking speed at the age of 30. He's a very tempting target and I'm skeptical of all these reports suggesting a half-dozen teams are tripping over themselves to sign Jackson.
Those rumors are primarily driven by agents, and the speculation rises and falls by the hour.
We've already seen it. One minute Jerry Jones is prepared to make Jackson a contented Cowboy and the next minute, Dallas has lost interest.
Yes, the Bucs are intrigued, but may I suggest an alternative — younger, cheaper and perhaps even more attractive than Jackson.
His name is Kenny Britt, and he just turned in a 1,000-yard season for the Los Angeles Rams. That's right, the 4-12 Rams, who were last in the league in both scoring offense and total offense.
Catching balls from Case Keenum and rookie Jared Goff, Britt somehow kept making plays downfield. Imagine what he could do with Jameis Winston and Evans around him?
Britt posted at least four receptions in 12 of his 15 games last year and he has no history of being a diva. Jackson has been known to pout about his contract and miss a meeting or two.
Jackson's upside seems bigger, but so does the risk. Britt looks to be the safer choice.
The No-Brainer 
The Bucs shouldn't be outspent for either receiver if they determine he is the guy they really want.
I would go with Britt, and I'm not stopping there.
So what if Calais Campbell has emerged as a coveted free agent? He belongs on the Bucs, and I don't want to hear another word about Chris Baker. He can't carry Campbell's shoulder pads.
Baker has 12.5 sacks in his career — Campbell had eight sacks last year alone.
Buc fans want to see Campbell's 6-foot-8 frame collapsing the pocket from the inside against Drew Brees, who has tormented Tampa Bay supporters for a decade by stepping up and delivering haymakers.
I haven't heard or seen one negative note on Campbell, who by all accounts is a leader who demands immense respect in the locker room. Noah Spence could follow him around all day to learn how to be a professional.
Anyone saying that about Chris Baker?
Warriors & Common Sense
Another veteran free agent popped on the market Tuesday when the 49ers released  safety Antoine Bethea. Tampa Bay should do its due diligence on Bethea, who fills a position of need and is considered a pro's pro, just like Campbell.
Buc fans have waited a long time for this moment. While San Francisco rebuilds and Arizona faces salary-cap issues, the Bucs are in a position to pounce — offering free agents wads of cash, Jameis Winston, sunshine, no state income tax and a franchise on the rise.
As always, the Glazers are firmly in the loop at this time of year. They want to know what Licht and Koetter intend to do, and why.
Hey, it's their money.
If the Bucs come away with Campbell, Britt and Bethea, it sets them up nicely for the draft. And don't forget about Nick Mangold, who can hold down the center spot for a couple of years while keeping Ali Marpet where he belongs.
The time to strike is now … and strike they will. Help is surely on the way for Mike Evans, Mike Smith and season-ticket holders from Tarpon Springs to Temple Terrace.
C'mon down to Tampa, fellas. The water's warm. The cash is cold.
And there's plenty of it.
Ira Kaufman, Tampa Bay's only Pro Football Hall of Fame voter, writes columns for JoeBucsFan.com every Monday, Wednesday and Saturday, and cranks out podcasts on Tuesdays and Thursdays. He's also known for eating all the food not nailed to the floor.