Bucs "Believability" Shared By Joe Maddon & Joel Glazer
March 31st, 2017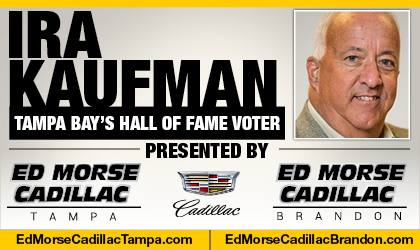 The sage of Tampa Bay sports, JoeBucsFan.com columnist eye-RAH! Kaufman, sat down with big-time Bucs fan and World Series manager Joe Maddon this week, as well as Bucs owner Joel Glazer at the NFL Owners Meetings in Phoenix. Ira's offering today dives into their Bucs mindset, and his columns appear here every Monday, Wednesday & Friday. His podcasts fire Tuesdays and Thursdays.
BY IRA KAUFMAN
The current word of the day in the National Football League is relocation.
In Tampa, the word is resurrection.
The ascension of the Buccaneers will surely be one of the story lines when NFL training camps open in four months. There's a sense in and out of the Bay area that Tampa Bay fans are primed for a thrilling season.
Count Bucs co-owner Joel Glazer among those stoked for 2017. At the owners meetings in Phoenix this week, I asked Glazer whether this team's makeup brings back memories of 1997, when a young Tampa Bay club broke through as an emerging power.
"I never like to compare this situation to another because each team makes its own history," Glazer said. "But we feel good about a group of young talented players and a solid coaching staff. We have all the elements for success and I can't wait for the season to start — it can't start soon enough for me."
Even Joe Maddon senses a different vibe in town.
I went to see the former Rays manager in Mesa just before the Cubs left their spring training complex to begin defense of a World Series title.
During his abbreviated offseason, spent primarily in Tampa, Maddon attended two games at Raymond James Stadium. He saw the Bucs beat up on the Seahawks and Saints during a surge that vaulted Dirk Koetter's club into playoff contention.
"The Bucs are coming on strong," Maddon told me. "My own personal field test is walking into RayJay last year and feeling an entirely different energy in the stadium. I had been to games over previous years and did not feel the energy I felt last fall.

"It was a different vibe entirely, a believability about the team on the field and that the franchise was being led properly. They're playing the game at 100 percent right now and it was really fun to watch. It was contagious."
Tight With Licht
Before Maddon left the Trop in favor of Wrigley Field, he formed a strong bond with Bucs GM Jason Licht. When the meetings broke up at the Arizona Biltmore, Licht and his family attended the final Cactus League game at Sloan Park, courtesy of Maddon's invitation.
"Jason and Dirk are getting the job done in Tampa," Maddon said. "No disrespect to anyone who came before them, but the Bucs have strong leadership right now."
Glazer nodded his head when told about Maddon's praise for the game-day atmosphere at Raymond James Stadium.
"We're in the second year of a three-year renovation process," Glazer said. "This year is fixed on the West Club and locker room work. When we're all done, we will have touched every area of the stadium, upgrading it to match the other facilities in the NFL."
Glazer said the team received "wonderful feedback" from last year's improvements to the scoreboards.
"It made for a dynamic game-day experience," he said. "That's what fans want."
Forever Bucs
Because three NFL teams have recently uprooted their fan base, I wanted to get Glazer on the record that the Bucs have no plans to petition the league about a potential relocation.
"That's a non-starter," he said. "We're working on a $150 million renovation of the stadium. We're focused on improving our stadium and making it a great point of pride for our fans."
Glazer is always careful not to get too far ahead of himself. He was very excited about the Bucs six years ago, when they came off a 10-6 season under a young quarterback named Josh Freeman.
Freeman is now out of football and the Bucs followed with five last-place finishes in the NFC South. Four head coaches later, the Bucs must now prove they can handle a bit of success.
"It always starts with the coach and the quarterback," Glazer said. "Dirk's got a year under his belt and he did a great job last season. This is a quarterback-driven league and we're very fortunate Jameis Winston continues to take a step forward. What excites me the most is the locker room. You walk around our room and certain memories come back to you."
In other words, this could be the start of something big.