Time For Glazers To Hire Derrick Brooks
February 1st, 2017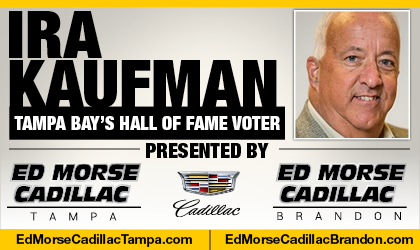 BY IRA KAUFMAN
For any Mark Dominik fans still out there in BucLand, this is a good time to shield your eyes.
Jason Licht's predecessor as GM is unlikely to land a job with the 49ers.
Media reports of Dominik joining forces with John Lynch in San Francisco mushroomed quickly after a single tweet by a national writer who suggested Dominik was a natural fit on the personnel side.
It didn't take long before speculation spread that Mark (28-52) Dominik was well on his way to another NFL gig after several years as an ESPN insider.
Not so fast.
My information is Dominik is not in the mix for a substantive job within the 49ers organization, despite his relationship with incoming coach Kyle Shanahan.
The hiring of Lynch by the 49ers stunned many NFL executives and surely angered several others because San Francisco didn't follow traditional protocol. Lynch went directly from the playing field to the broadcast booth — where he steadily improved to the point where I thought he was Fox's premier analyst.
Lynch supposedly didn't "pay his dues" by working his way up the chain of command as a personnel executive.
So that leads me to another Buccaneer icon, a former Lynch teammate who still lives in Tampa and spends most of his working hours running a football operation.
Mr. Derrick Brooks.
Mr. President
I'm in no position to tell the Glazers how to spend their money, but Brooks could be a significant addition to Tampa Bay's front office.
He won't come cheap and he won't take a token job, either, but there's got to be a way to hire Brooks and allow him to enhance the organization at One Buc Place.
For more than five years, Brooks has served as president of the Arena League's Tampa Bay Storm, overseeing the team's budget, player acquisitions and coaching staff from his office at Amalie Arena.
The first-ballot Hall of Famer has immersed himself with the business side of sports, but he hasn't lost touch with the other pro football team across town.
Brooks reaches out on a regular basis to current Buc players, answering their questions, offering wise counsel to their concerns.
Why not make it official?
Multiple Rewards
The Bucs are one of only four NFL clubs that don't feature a designated team president. Bryan, Joel and Edward Glazer are listed as co-chairmen, followed by Licht and Chief Operating Officer Brian Ford.
Surely there's a place for No. 55.
The 2016 Bucs media guide lists hundreds of employees, working together for a common goal. How about one more?
If Brooks is brought aboard in an official capacity, he could play a pivotal role in convincing free agents that Tampa Bay is an enticing NFL destination. Although he hasn't made a tackle since 2008, Brooks still generates tremendous respect among young players.
Even the league recognizes the class Brooks brings to the table, hiring him as an appeals officer for on-field discipline.
On the surface, the Bucs are doing very well without Brooks on the payroll. The value of the franchise keeps going up and a 9-7 record suggests Licht and Dirk Koetter are on the right path.
But history tells us to be cautious with this organization. The Bucs haven't cobbled together two consecutive winning seasons since Jon Gruden roamed the sidelines.
If Lynch can be tabbed to lead an NFL franchise in one Bay area, Brooks deserves a chance to play a part with the Bucs — a team he loves and supports.
Brooks knows what an NFL player looks like. He'd be thrilled to help coach these guys up, if asked, and young players would improve just by being in his presence.
He's already in the Buccaneers Ring of Honor, but that's not enough … put Derrick Brooks in the front office.
Then sit back and reap the rewards.
Tampa Bay's only Hall of Fame voter, Ira Kaufman, pens columns for JoeBucsFan.com Mondays, Wednesdays and Fridays, and Ira churns out his popular podcasts here Tuesdays and Thursdays. You can also listen to the award-winning podcasts on iTunes or Podbean.