"That's Doug Martin Territory"
February 24th, 2017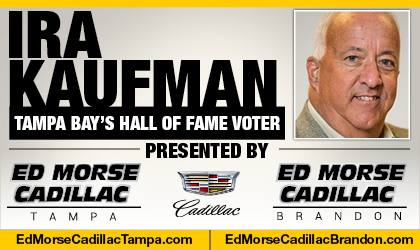 BY IRA KAUFMAN
In two weeks, the Bucs are likely to have an opportunity to add a first-ballot Hall of Famer to a position of need.
Don't do it.
The Vikings say they haven't reached a decision about Adrian Peterson, but it's not difficult to read between the sidelines. If the former league MVP isn't willing to restructure his contract, he's gone.
Minnesota isn't about to trigger an $18 million option on a running back who turns 32 on March 21. It looks like Peterson will be allowed to test the free-agent market, and that's where the Bucs come into play.
A year ago, the Bucs thought they were set at running back, at least for awhile. Doug Martin was coming off an All-Pro season and Charles Sims accounted for more than 1,000 yards from scrimmage as Martin's backup.
But Martin injured his hamstring in Week 2 and Sims struggled as the primary back. When Martin returned, he was ineffective and now he is suspended for the first three games of 2017 for violating the NFL's drug policy.
There's a good chance Martin has played his last game for the Bucs, who ran the ball poorly in 2016. While there is no doubt running back is a priority position this offseason, Peterson isn't the answer.
Drivel Time
NFL history tells us that 32-year-old running backs rarely make an impact, especially ones with Peterson's wear and tear.
Speaking of tears, Peterson suffered a torn meniscus in Week 2 last season and finished the year with 37 carries for 72 yards. That's yards-per-carry average makes Martin look like Ezekiel Elliott.
Peterson is already trying to reach out to his next employer. He has mentioned the Bucs and Giants as potential landing spots, but that's just free-agent chatter.
A lot of drivel goes on this time of the year, like Jameis Winston saying he'd welcome DeSean Jackson. What else is the face of the franchise supposed to say?
If Winston had been asked about Randy Moss, he would have said come on down.
And by the way, that report suggesting Winston and Jackson have a "rapport" is simply fake news. Apparently the "rapport" consists of Winston rooting for the Eagles while Jackson was catching passes from Donovan McNabb.
Whether he's playing for the Bucs, Vikings or Giants in 2017, Peterson wants to be paid for what he has accomplished — and it's quite a body of work.
Peterson's average of 95.5 rushing yards per game for his career ranks No. 4 all-time, behind Jim Brown, Barry Sanders and Terrell Davis. Right behind Peterson are Eric Dickerson and Walter Payton.
That's high cotton.
No Threat
Peterson's Canton bust is assured, but the Bucs don't care about what he put on tape during his peak. A.P. new stands for After Prime.
Peterson is only valuable in terms of future performance, and that's why the Bucs need to pass on him.
He's never been much of a blocker or a pass-catching threat out of the backfield, so Peterson has to make his mark with the ball in his hands. And in the eight games before that torn meniscus, Peterson averaged 2.9 yards per carry.
That's Doug Martin territory.
Granted, this free-agent class of running backs doesn't get Buc fans particularly excited. When Eddie Lacy is one of your headliners, it's a weak crop.
Still, the Bucs need to avoid the Peterson trap and make a sensible signing like Latavius Murray. And don't stop there.
This draft is supposed to be deep at running back. You can find value past the first round, and GM Jason Licht thrives on hitting the long ball on Day 2 of the draft.
Peterson would be a sexy signing, but he makes little sense for this franchise.
Move along, people. Nothing to see here.
Ira Kaufman pens columns for JoeBucsFan.com every Monday, Wednesday and Friday, and his stunning and entertaining podcasts fire every Tuesday and Thursday. Kaufman is Tampa Bay's only Pro Football Hall of Fame voter and he will do just about anything for a free, three-course lunch.