Rich McKay Talks To Joe
February 5th, 2017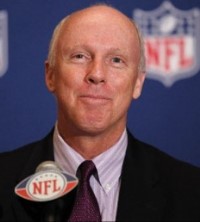 Last week at "Super Bowl Opening Night," Joe had a chance to chat with former Bucs general manager and current Falcons president Rich McKay. His ties to the Bucs are ingrained in the DNA of the team. His father was, of course, John McKay, the team's first coach. And naturally, Rich McKay built the Bucs into the eventual Super Bowl champion they became. McKay talked to Joe about the NFC South. Tonight, McKay very well could oversee his second franchise winning a Super Bowl.
JoeBucsFan: It seems like there is no way there is a better quarterback division than the NFC South.
Rich McKay: No, I thought coming into the season that's one of the things I said about the division and people thought Carolina would be in a kind of a class of its own. The division has four quarterbacks that are really good players. All of them have their own pelts on the wall. They have all won. Cam coming off a year where they are 15-1, you have Drew Brees who has a Super Bowl and you have Matt [Ryan] who has been in the playoffs five times and you have Jameisl; all he did at Florida State is win. It is really a good division and should be a good division for a long time because one thing that matters is coaching matters and quarterbacks matter.
Joe: How much does it help your defense that a minimum of six games a year, you are facing quality quarterbacks and in one case, a guy who will be in the Hall of Fame? Is that one reason why the NFC South has had a team in back-to-back Super Bowls?
McKay: I think, for us, I don't know if it was just our division this year or who we faced but we definitely got better as the year went on. We got better because we played a lot of young guys early and they got comfortable with the scheme. In the end, we played a hard schedule, a difficult schedule. So, good for us, good learning. Lost some games early, lost to Tampa early at home. Our guys got better.
Joe: It seems like you are kind of suggesting what Joe has been saying: A team in August is different than it will be in September and then in October, and on down the line. It grows, it learns, it adjusts, it changes with injuries. Is that true?
McKay: I have always thought that teams year-to-year are completely different. Well, we will carry on from last year – no, it's a completely different football team. Every year you get at least 20 [players] turnover. In your case, what you bring up is true too. Teams, and that's where Coach Belichick is a master, teams that end up in January don't look much like what they did in September. I think that is true. Good coaching typically does that because your schemes have to evolve. Teams get better through the year. You have to deal with injuries [too] which will make your team different. If you were a team that used to like to run right, what do you do if your right tackle is a really good player, and now he is hurt? So now you are not going to run right. So what are you going to do? You have to adjust and I think that's what good teams and good coaching will do.