"Record Revenues" For Team Glazer Soccer
February 9th, 2017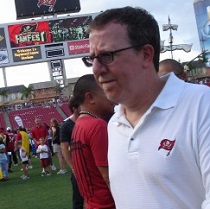 Free agency season is the time of year when many Bucs fans try to figure out how wide Team Glazer's wallet will open to buy championship pieces.
Some of these fans seem to think what's happening with the finances of Team Glazer's soccer team, world giant Manchester United in the English Premier League, is somehow connected to the Bucs.
It's not.
But for those who think so, the following new report from BBC will induce a smile. Team Glazer is making it rain overseas.
Manchester United says it remains on track for record revenues for the current financial year, after making record quarterly revenues.

The Premier League's new TV deal meant broadcast revenues were up 40.8% in the last three months of 2016, while match day income rose 27%.

Total revenues were £157.9m, up 18% from £133.8m a year ago. The club now expects revenues of £540m this year.
There much more in the story linked above.
But the point here is Team Glazer is awash in global streams of cash, in addition to being $60 million+ under the salary cap for 2017.
Perhaps Calais Campbell likes soccer?