Matt Ryan's Next Offensive Coordinator
February 2nd, 2017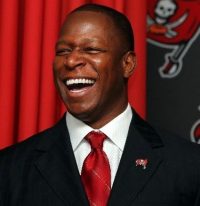 One of the most interesting untold stories in the NFL this season is career defensive coach Raheem Morris, the Falcons' assistant head coach, taking over leadership of the Atlanta wide receivers corps.
It's an NFL rarity for a guy to jump to the other side of the ball — and then succeed and coach in a Super Bowl.
Of course, Raheem was the Bucs head coach in 2010, the best Tampa Bay regular season record since 2005.
Will Raheem, 40, be a head coach again? Maybe. Probably.
But top Falcons beat writer D. Orlando Ledbetter of the Atlanta Journal Constitution seems to think Raheem will have a new role first: offensive coordinator/playcaller when Kyle Shanahan leaves the Falcons to coach the 49ers after the Super Bowl.
Man, how stunning would that be? Raheem as OC squaring off twice next year against Mike Smith and the Bucs defense.
Wild times in the NFC South.