Explaining The John Lynch Miss
February 6th, 2017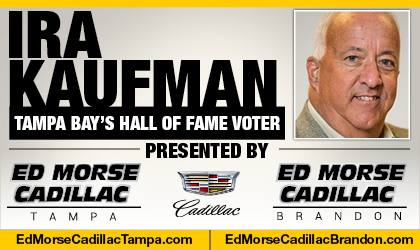 BY IRA KAUFMAN
Everything was going John Lynch's way … until the moment of truth.
The vibes in the room were all positive after I made my pitch for Lynch as a Hall of Fame candidate Saturday in a Houston conference room. Several other selectors spoke up in Lynch's behalf, talking up his credentials for the Class of 2017.
One voter said he surveyed several current Hall of Famers to rank this year's list of nominees and Lynch finished near the top, well ahead of Brian Dawkins.
For the second consecutive year, Lynch survived the first cutdown, from 15 to 10. But so did Dawkins, in his first year of eligibility, and that was an ominous sign because it was highly unlikely two modern-day safeties were getting in.
And when the votes were counted, both failed to receive enough support.
When Hall officials announce the final five, they don't give out vote totals. Lynch could have finished sixth, or he could have finished 10th, but my sense is he was very close.
It appears Lynch and Dawkins canceled each other out, which happens often for comparable players at the same position. Remember the logjam at wide receiver awhile back when Andre Reed, Tim Brown and Cris Carter were frozen out for several years.
Once Carter broke through in 2013, Reed and Brown got their busts in the following two years.
It happens.
During the discussion phase, one voter noted that Dawkins made the All-Decade team of the 2000s, while Lynch did not. That's an important distinction because the All-Decade teams are selected by the same Hall of Fame Selection Board.
I explained that some Hall-worthy players are "tweeners" whose careers simply don't fit neatly into one decade. Lynch became a starter in 1996 and ended his career in 2007.
Dawkins played from 1996-2011.
In the 15 minutes it took for an accounting firm to tally the votes for the final five, I was confident this would be the year for Lynch, who has been a finalist since 2014. The final five are announced in alphabetical order, so when I heard the name Terrell Davis and then Jason Taylor, my heart sank.
I was stunned.
Sucking Up To Sacks
Where did Taylor come from, in his first year of eligibility?
In retrospect, Taylor sacked Lynch's spot because he was the only pass rusher in the group while Lynch had direct competition at safety.
And the selectors love pass rushers.
Taylor joins Kevin Greene, Charles Haley, Michael Strahan, Warren Sapp, Chris Doleman, Richard Dent, Rickey Jackson, John Randle, Bruce Smith, Derrick Thomas, Fred Dean and Andre Tippett as sack masters voted in since 2008.
Sometimes, you just have to wait your turn. Reed was in the room seven times before he was elected in 2014 and Greene got in last year in his fifth year as a finalist.
Lynch will have waited the longest of anyone on the ballot next year if, as expected, he makes the list of finalists once again.
The Class of 2018 is packed with dynamic first-year eligibles like Ray Lewis, Randy Moss, Ronde Barber and Brian Urlacher, but there is room for Lynch.
Yes, Dawkins will be back, but my sense is Lynch is ahead of the former Eagles standout. Barber has imposing Hall of Fame credentials and I'm eager to make his case as well.
Owens Buried
Many fans and players can't understand why voters aren't backing the candidacy of Terrell Owens, who clearly has Hall of Fame numbers. Let me assure you that his lukewarm support has nothing to do with his on-field antics or frosty relationship with the media.
For the past two years, Owens has been buried in the room, portrayed as a divisive figure who cares only about himself. These views aren't fake news — they are comments shared by former coaches and former teammates who couldn't wait to get rid of a supremely talented player.
No one ever said Warren Sapp was a bad teammate. No one ever said Sapp cared only about himself.
That's a big difference, and Owens is paying a steep price. Owens will get his day in Canton, but the case against him is real — and it's persuasive.
Wouldn't it be wonderful if Lynch and Barber are inducted together in 2018? That's my goal, and I'm going to give it my best shot in Minneapolis.