Dominik On Jameis: "It's A Shame"
February 25th, 2017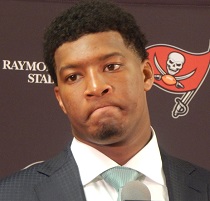 Yes, America's Quarterback, Jameis Winston, was skewered by Tampa Bay Times columnist Tom Jones this week, step 1 for a pathetic nationwide assault on Jameis' character for unintentionally delivering a sexist message to elementary school students while volunteering to help them.
(Next week, it's rumored that Jones will go after the Rays organization for airing erectile dysfunction ads in games promoted to children.)
If you haven't noticed, Jameis' rough sentence during a roughly 40-minute, warm-hearted motivational speech resulted in a cavalcade of hate thrown his way from all kinds of media.
It was a big topic on BSPN, and former Bucs rockstar general manager Mark Dominik, now a BSPN TV analyst, weighed.
In the video below, you can watch Dominik stand tall for Jameis, talking about the work he's seen Jameis do in Tampa and how what happened to Jameis in the media "is a shame."
(Note: Dominik says the Bucs were unaware Jameis was going to the elementary school. In fact, Buccaneers.com was there and reporting.)