Chris Myers Talks To Joe
February 7th, 2017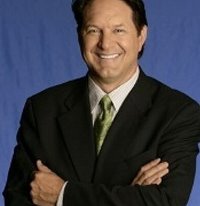 Joe has tons of interviews he conducted last week in Houston that will be presented here throughout February. Bucs preseason TV play-by-play man Chris Myers, who also works for FOX Sports, was gracious enough to chat about Bucs subjects. Today, Joe brings Myers' thoughts on his former broadcast partner and former Bucs great John Lynch taking a job with the 49ers.
JoeBucsFan: Your thoughts on John Lynch being named the general manager of the 49ers?

Chris Myers: [At] FOX, we're going to miss him. We're all going to miss John Lynch. He's the standard. He's a quality guy, he does his homework, he makes people around him better just as a player he did that as a broadcaster. I take pride in the fact that I was kind of the guy, before Ronde Barber did Bucs preseasons games. We worked with John and kind of broke him in with FOX and, of course, he escalated to doing playoffs and things like that.

He had mentioned to me a while ago that John Elway had talked to him maybe about some front office position. He is a guy that liked spending time with his family and being around football, and so I thought that was somewhere way on the back burner.

We are happy for him. He obviously wouldn't do it if he didn't think it was good for him and his family. But I think we are caught off guard and surprised. We will miss him. He's an important part of what we do and he is also a guy who did seminars and we liked hanging out with him.
Tomorrow, Joe will have Myers' thoughts on who might be the next ex-Bucs player who could be wearing a suit in an NFL front office.